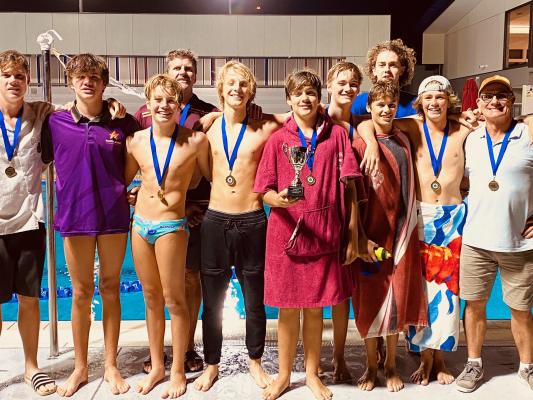 The water polo program at Good Shepherd has been growing in popularity and the hard work and dedication has paid off.
As early as Year 4, students are introduced to flipper ball, a modified version of water polo, as part of the Junior HPE program and Junior Years SCISSA (Sunshine Coast Independent School Sports Association) which then progresses to water polo in Years 5 and 6.
2020 saw the College field nine teams across Years 6 to 12 in the Sunshine Coast Schools Water Polo Competition, three of which went on to produce great results in what was a turbulent season.
Both the Intermediate Girls A Maroon team and the Intermediate Boys A team, made up of Year 9 and 10 students, won their respective grand finals held at St Andrews Anglican College Aquatic Centre.
The girls team played against St Johns and after trailing by 2 points in the 4th quarter (2-4), team tactics were quickly modified resulting in a nail biting finish. Good Shepherd shot three consecutive goals to win by one in the last minute of the game (5-4). This Intermediate Girls A Maroon team remains undefeated for the 3rd year in a row.
The boy's team had a convincing win against a very competitive St Andrews Anglican College team with Augie Korac and Smith Connors working well together to score the majority of the goals (8-2).
Mrs Meagan Turner, Water Polo Coordinator said, "The intermediate teams have been a very strong and close knit group this year, with two of the teams proving their dominance by finishing the rounds undefeated.
"We are very happy that the hard work and dedication shown by these students has paid off. We are looking forward to another great competition in 2021."
The open first boy's team completed their season in September with a narrow loss (8-7) in the last few seconds of their Grand Final against Matthew Flinders. Mr Craig Moore, the coach of the boy's team, praised the efforts of his team. "The boys fought extremely hard and showed great grit, it's always a great competition when they play against Matthew Flinders. They are already looking forward to a rematch next season," Mr Moore said.
With the majority of players being in Years 9 and 10, these young players still have a few years of competition ahead of them and are looking at the 2021 season with excitement and anticipation.