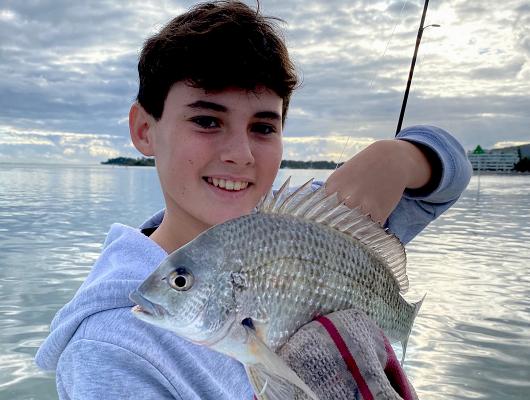 As another mixed bag of weather greeted the first week in August we did see some quality fish getting caught. These came not only from the river and beaches but offshore. The lead up to the full moon saw a strong bite window as anglers made the effort to get out there.
Offshore a few charters made the trip out wide and were rewarded with some great jewfish from the North Reef area. Double Island was also on the cards with some good amberjack and jewfish boated and quality snapper and pearlies being returned. We now carry a range of release weights to help anglers release snapper and pearl perch caught in deeper water. These should be a part of everyones angling kit as snapper, jewfish, trout and cod are four popular species that suffer barotrauma and need help when it comes to releasing. We have weights up to 42 ounces which suit offshore fishing and big fish. In closer smaller sweetlip, tuskies feature around Sunshine reef. There are a few trout and mid water cobia taking pillies floated downward. This area is great when drifted and slow pitch jigs are deployed. The new Samaki wingman is a great offering and one that is sure to get the bites on tough days.
Surf fishing has seen an improvement too and early in the week a few big jewfish came off the beaches around sunrise beach and Coolum after dark. The beauty of fishing in winter are the evening high tides as we approach the major moon phases. This along with some fresh mullet really helps with getting the big one! Check out the new range of Gomoku surf sticks instore that are designed with big fish in mind with one reaching a massive 14 foot! Bream continue to feature heavily around rock walls and points of Noosa National park and Point Arkwright in Coolum. There are also some cracking GT's coming up for those guys spinning for tailor. Smaller slugs in the 30-40 gram range are best used especially when the winds and swell are up off the beach.
The Noosa River continues to see standout queenfish smashing the baitfish in the mornings. These fish are taking stickbaits in the 90-120mm size with Megabass Xbladz a high speed stickbait that is rigged with singles and internal sliding weight system to help give you a longer more accurate cast. Other fish that may hit such a lure would be a big tailor which are often found with queenies in the Noosa River. Slightly lower down in the water trevally and bream are also often found together, especially around the structure of the dog beach. These sunken trees provide ample cover and a chance of finding a PB just lurking deep in the snags. You would be best to step your gear up to 12lb or so to stop a fish here. After the rains the estuary will become murky making now a great time to focus all efforts in the lower areas including woods bay and Noosa Sound. Flatties are also holding around these areas and they love a whole snelled whitebait allowed to gently drift in the current. As we move toward the neap tides next week this is the best method for searching for bigger fish. Soft plastic fishing will become easier due to less tidal flow. Be sure to take a good look at the TT estuary pack if starting out. This has all the popular jighead weights covered and comes in a tackle box. While you are at it grab some squidgy prawns and some extra s-factor which have proven themselves deadly on big flattties and bream.
Freshwater has seen a rise in water levels and with this a small temperature drop can be expected. This will see the bass sit deep and the toga move toward any run off. If after toga try small suspending jerkbaits like the 67mm Jackall squirrel and let it sit for as long as you dare. Wit the bass sitting deeper to find more consistent temperatures you would be best to fish hard on the bottom with spoons, zx40 blades from Ecogear and slow rolled soft plastics on fine wire 3/8th TT jigheads. Why not try a few Atomic Prong plastics which mimic a prawn/crayfish very well. This also happens to be a popular prey item in the dams and lakes so expect to get an aggressive bite.
Now for all the latest information log onto www.fishingnoosa.com.au for up to date bar and fishing reports, don't forget to drop into Davo's Tackle World, Davo's Boating and Outdoors in Noosa and Davo's Northshore Bait & Tackle in Marcoola for all the right equipment, bait and advice to get you catching. Be sure to follow us on Facebook and remember Tight Lines and Bent Spines!