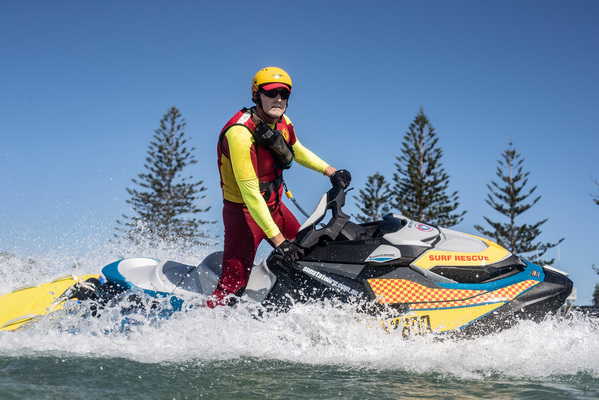 By Ron Lane
For our lifeguards based at Noosa's Main Beach it has been a busy holiday season, but I am happy to relate the majority of their incidents have been first aid: in particular in the National Park region.
A spokesperson for the lifeguards said the number of calls into the park for first aid had been amazing; but luckily no real emergencies occurred.
"Probably the worst was a dislocated shoulder," he said.
However, on Monday the one call out that was top priority occurred on North Shore.
Several kilometers from the river mouth, two people swimming in a remote area got into difficulties: two jet rescue skis were immediately dispatched.
On arrival they were found to be caught in a bad rip; the rescue skis bought them to shore and as paramedics had been called, they were stabilised on the beach and then transported to hospital.
"They were extremely lucky. If it had not been for the fast ski patrols (to such a remote area) and the immediate response of the paramedics it would have ended in tragedy. Again we stress when visiting such remote beach areas and there is surf and rips do not swim."
This also emphasis another point for visitors to remember. Had those two ski patrols been attending to a distress call out in the National Park region the two swimmers in trouble on North Shore would have surely drowned.
This again emphasises the golden rule; if you feel like a swim while visiting a remote area and there is a wave and rips, forget it.
Also a word of advice from rescue teams: if you are thinking of hiring a jet ski, you are not well experienced and there and there is a wave running ; do yourself, your family and the lifeguards a favor- and don't.
Three times during the holidays lifeguards have been called into the Noosa Bar to rescue ski drivers who have rolled their skis. Lucky they were not seriously injured. However two seasons ago a visitor ignored the above warning rolled his ski and his injuries were everlasting.
Boat crews shine
On the weekend Noosa boat crews were busy with two carnivals, the first at Tugun Beach on Gold Coast on Saturday, and Collaroy Sydney on Sunday.
At Tugun in Round One of the Queensland Cup, rowing in one metre surf, the Noosa women's division results were good. In reserve grade their two crews finished second and fifth – U/23 1st, U/19 1st and 3rd. In the mens division U/19 3rd, masters 160+ 1st, 200+ 2nd.
That evening three women's crews flew to Collaroy Sydney to compete in the Collaroy International Young Guns Carnival and despite flight delays, which saw them arriving at midnight, they performed well. In big surf the U/23 finished 4th and in the U/19 their two crews finished in 4th and 5th place.
"Considering the late arrival in Sydney," said coach/sweep David Tomba, "big surf and the U/23s rowing in a borrowed boat their performance was good. We couldn't ask for more."
"As a result of overall points from ASRLQ (Australias Surf Rowers League Queensland) carnivals this season, the top three crews from each division are invited to attend the Queensland Selection Carnival at Maroochydore 25 January; the winners will have the right to represent Qld at the upcoming ASRL Open Competition next month. From Noosa three womens crews were invited; Reserve grade, U/23 and U/19s.
"Well done to all three."
Tin shed evolves
It was way back in 1981/82 season when, as District Supervisor for Sunshine Beach Surf Life Saving Club, I would walk into their club house to do a gear inspection; despite a gap of 39 years it still seems like yesterday.
Who can ever forget the clubhouse: situated at the very back of the beach it was just a little old tin shed.
Now after all those years and a construction period of some nine months, this new clubhouse with views that you l have to see to believe, will on 18 January, be open to the public. Well done to all involved and good luck in the years ahead.