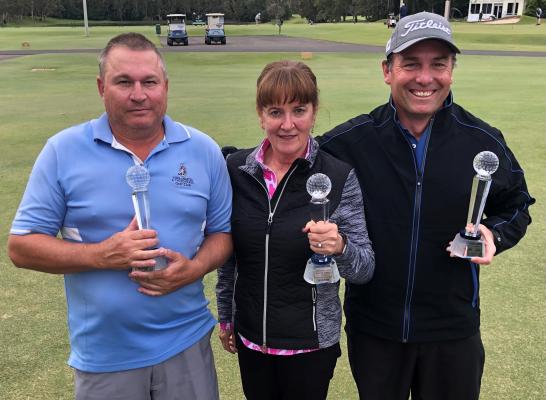 By Peter Owen
Three weeks ago Steven Burr wasn't even a member of Noosa Springs.
Today's he's club champion, outlasting a host of hopefuls over four gruelling rounds of strokeplay.
He shot rounds of 78, 86, 82 and 78 over the past two weekends – not particularly impressive figures for a man who's used to breaking par as often as not, but good enough to do the job on a tough course.
Steven is an example of a growing trend sweeping Australian business in these strange pandemic-influenced days.
A prominent figure in the specialist equipment finance industry for the past two decades, Steven discovered last year that he could service his clients just as well from his home office as from his company's St Kilda Road headquarters in Melbourne.
So he and his wife fled Victoria just in time to avoid last year's long lockdown, quarantined with their two young kids in Caloundra for a fortnight, then moved in with Steven's parents at Peregian Springs until they decided where they wanted to live.
The choice was Noosa, and last month the Burr family settled into their new Noosa Heads home.
A few days later Steven joined Noosa Springs, and then teed up for the first round of the club championships.
"We'd regularly visited my parents and we loved the Sunshine Coast," Steven said. "So we thought 'why not move there now while we can?' Life's too short to waste any time."
He still flies to Melbourne every few weeks for meetings, but the rest of the time he works from home, establishing a work routine that allows him to spend more time with his family, and enjoy the benefits of living in Noosa – like playing golf at Noosa Springs.
Steven took up the game at 16 and began taking golf seriously when he was about 18, joining Eastwood Golf Club in Melbourne's eastern suburbs.
As his game progressed he transferred his membership to Huntingdale, a quality course on Melbourne's famous sand belt, which hosted the Australian Masters for many years.
He remains a member of that club, where in 2017 he won the Huntingdale club championship.
"I was playing a lot better then," said Steven, who owned a plus-one handicap before he joined Noosa Springs.
Curiously, he began the four-round club championship on a handicap of one but, by the time he'd completed his fourth round on Sunday, it had crept out to three.
"This is a challenging course," he said. "I've played most of the sand belt courses in Melbourne – Huntingdale, Royal Melbourne, Metropolitan and the like, and Noosa Springs is as tough as any of them.
"If you're just a little bit off with your game, you'll be found out," he said. "Your ball will be in a hazard, and the greens are very tricky."
Steven went shot for shot in the final round with Dino Degotardi, and eventually prevailed by two strokes.
"We both lost balls and couldn't get anything going," he said. "It was pretty crazy."
In the women's club championship, outstanding junior Sunday Moore (85, 73, 81, 81) led throughout to beat Tracey Carter (86, 83, 75, 82) by six strokes.
Vesna's now a fan of Noosa
Brisbane's Vesna McLean didn't think much of the Sunshine Coast before last week.
A Brisbane resident for 20 years, the former Sydneysider considered our region, in fact, to be a retirement centre – too dull and quiet for her taste.
That view changed significantly when she stayed with friends at Sunshine Beach while she was playing in the Sunshine Coast Winter Classic last week.
"I loved it," she enthused. "What wonderful restaurants you have in Noosa, and what fascinating people. I'll be back for sure."
The fact Vesna scored a thrilling one-stroke win in the ladies section of the Classic might have influenced her thinking. But, whatever, she's already told organisers she'll be lining up to defend her title next year.
Vesna, an Indooroopilly member, had scores of 37, 35, 34 and 30 stableford points to hold off a late-charging Dawn Lake (32, 34, 28, 41), of Redland Bay.
More than 120 golfers – most of them from Queensland, but a sprinkling from other states – played rounds at Maroochy River, Peregian, Noosa Springs and Twin Waters, and marvelled at the quality of the region's courses.
Coolangatta-Tweed Heads golfer Richard Robinson won the men's division of the Classic – defending the title he won when the Classic was held for the first time last year.
He had rounds of 31, 34, 38 and 36 points for a five stroke victory. Fellow Coolangatta-Tweed Heads member Chris Brown was the Division 2 champion.
Noosa Springs' general manager Mark Brady, one of the organisers of the Classic, said next year's event would be bigger and better, with COVID-19 restrictions almost certain to be eased and more interstate and international visitors likely to compete.
Noosa Springs' girls make finals
Though they sat out the final round at Maroochy River on Sunday, Noosa Springs' all-girl team of sisters Sunday and Coco Moore and Jasmine Lena have secured a place in the semi-finals of this year's zone junior pennants competition.
Despite having a bye, the girls had accumulated enough points to earn a shot at taking down the unbeaten Maroochy River 2 team in Sunday's semi-final at Peregian.
Three wins from four matches left their Noosa Springs 1 team in second place in the competition's Blue conference. Coco Moore and Jasmine Lena have been named finalists for the Junior Pennant Player of the Year award.
Sunday's semi-final is scheduled for 7.30am, and visitors are welcome to go along and give the girls their support.
Senior pennant competition also begins on Sunday, with Noosa fielding two teams in A grade, and Noosa, Cooroy and Noosa Springs represented in B grade and Masters competition.
Club competitions
NOOSA
Monday, 7 June
Women's stableford: A grade – Cynthia Duco 35c/b, Paula Jeffrey 35; B grade – Tracey Frawley 40, Denise Read 35c/b; women's 9-hole stableford: Dorothy Charlesworth 19, Trisha Dunn 18, Jenny McDougall 17c/b.
Tuesday, 8 June
Men's stableford: A grade – James Cervi 41, James Anderson 40c/b, David Alsop 40, Warick Redwood 39c/b; B grade – Gav Hunt 41, Michael O'Connor 39c/b, Bruce Davidson 39, Michael Clayton 38; C grade – Tim Dolan 38, Clive Hart 37c/b, Craig Beckey 37, Bill McCarthy 36c/b.
Wednesday, 9 June
Vets par plus: A grade – Coman Reynolds +2, Doug Rogers +1, Ken Robinson 0; B grade – Ted Burgess +4c/b, Peter McDonald +4, Geoff Kerr +3; C grade – Jeff Scougall +7, Dudley Hobbs +4, Michael Law 0c/b.
Thursday 8 June
Women's 4ball, best 2 stableford: Paula Jeffrey, Allana Moore, Tracey Whitbread, Judy Patterson 88, Gayna Ryan, Susie Barlow, Kathy Jones, Barb Allen 82, Rosemary Caffyn, Lani McDowell, Di Stagg, Orawan Millar 81c/b.
Saturday, 12 June
Men's stableford: A grade – Tony Lincoln 39, Rob Martin 38c/b, Peter Fryer 38c/b; B grade – Tim Dolan 41, Peter Bolitho 40, Gary Dolton 38c/b; C grade – Neil Prideux 40, Jacob Robinson 37, Mark Fulton 36; women: Noreen Scanlon 40, Jess Fleming 36, Janine Freestall 36.
NOOSA SPRINGS
Monday, 7 June
Men's stableford: John Chandler 37, Alex Wyer 34c/b, Alistair Rooney 34.
Tuesday, 8 June
Men's stableford: Tony Carabetta 40, Gordon Mather 39, Phil Harrison 35; women's stableford: Melissa Bade 32, Annie Seccull 25, Kathryn Mather 21.
Wednesday, 9 June
Men's stableford: Ben Kearney 40, Paul Sprunt 39, Garry Williams 38; women's stableford: Diane McLaughlin 41, Debbie Collinge 38, Penelope Paterson 36c/b.
Saturday, 12 June
Men's stroke: A grade – Simon Cotton 70, Andrew Tregaskis 73, Scott McMenamin 77c/b; B grade – Ross Taylor 71, Jean Luc Chaudet 78, Douglas Oates 79; C grade – Kerry Sunderland 75, Ryza Garbacz 77, Uli Schmetzer 78c/b; women's stroke: A grade – Tracey Carter 67, Sunday Moore 74, Sandra Probert 75; B grade – Leisha McMenamin 72, Margaret Hart 73, Jill Yeatman 74; C grade – Helen MacKenzie 74, Marlo Douglass 77, Fay Layton 83.
Men's stableford: Craig Davis 34c/b, Arthur Johnstone 34, David Tewksbury 33c/b; women's stableford: Dana Angus 35, Marg Waters 32c/b, Marie Osborne 32.
Sunday, 13 June
Men's stroke: A grade – Ben McCulloch 73c/b, John Gavin 73; John Chandler 76; B grade – Simon Reeve 68, Jean Luc Chaudet 74, Daryl Dent 75; C grade – Ryza Garbacz 67, John Buchanan 73, Michael Hart 75. Women's stroke: Jasmine Lena 67, Coco Moore 71, Sunday Moore 74c/b; B grade – Carol Moloney 74c/b, Debra Oates 74, Janet Dunn 76; C grade – Helen MacKenzie 75c/b, Carol Yancey 75, Fay Layton 79.
COOROY
Wednesday, 9 June
Vets stableford: A grade – Grathan Leatherbarrow 40, Gary Menyweather 37, Russ Rylance 35c/b; B grade – Ian Lumsden 37, Paul Williams 36c/b, Neville Kunst 36; C grade – Jack Ruig 42, Don Esposito 38, Jim Henderson 36c/b.
Thursday, 10 June
Women's stableford: Kate Sawrey 32, Judy Kitcher 31.
Saturday 12 June
Men's stableford: Div 1 – N. Ackland 36, G. Hall 35; Div 2 – R. Rajak 40, M. Ciavarella 38; Div 3 – R. Ballantyne 36, M. Saunders 32c/b. Ladies stableford: Terri Cairns 42, Lynne Dawson 37.