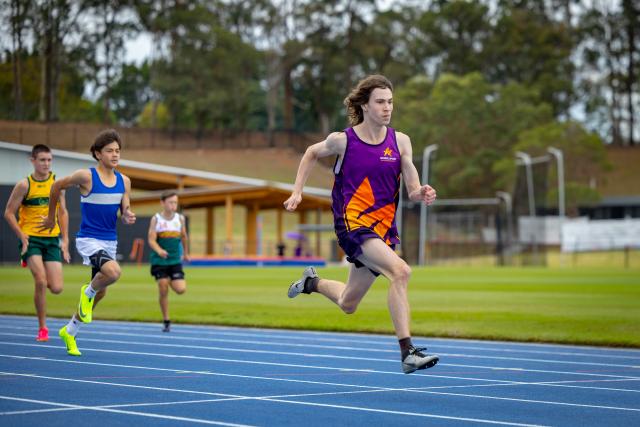 Ron Lane
Jiu Jitsu
At the recent Grappling Industry and Pan Pacific ( Jiu Jitsu) Championships for 2023 our local Caza Jiu Jitsu Club came away from both titles with great results.
At the Grappling Industry championships held at the South Pine sports complex the Caza club finished in second place for overall academy, for kids and teens.
With a total of 1892 points this was indeed a great achievement as the club had only a total of 10 competitors competing. When we consider that, on the day, there was an estimated 1000 competitors from a total of 50 teams competing, their accolades were well earned. Results for the day speak for themselves with a total of 23 medals, 10 gold, nine silver and four bronze.
The gold medal recipients were Joel Millar one, Jordan and Morgan Van Der Walt two each, Louise Wanre and Ava Greason also won two, and Katie Chandler one. In the silver medals, Zoe James-Collier, Cassius Osborne, and Faith Tobin two each, and Ashley Greason, Kake Warne and Katie Chandler one each.
The bronze medal winners were Joel and Joshua Millar, Jake Wanre and Ty Chandler.
The Pan Pacific Championships which were contested from 27 to 29 October, were held at the Melbourne Sports and Aquatic Centre. This is the biggest competition held in Australia and is run by the IBJJF (International Brazilian Jiu Just Federation).
Considering that this is the biggest competition in Australia, the results were again very good with a medal count of nine medals, four gold, two silver and three bronze. Gold medals went to Jyssica Lian, Daniel Svoboda one each, Felix Rias two gold open weight silver and bronze, and Samson Barton, silver and James Smith, two bronze.
As we say the results speak for themselves.
To come home from two tournaments with medal counts such as these tells us that the standard of coaching and discipline set down by Head Sen-sei, Professor Yoshi Hasegawa, and passed on by his coaching panel, is second to none.
Yet another of our local sporting clubs that stands with the best in Australia.
Outriggers
Hot off the press from Outriggers HQ in Chaplin Park, where the whips are really cracking, comes the news that the Noosa Outriggers are in the process of organising all aspects necessary to ensure that the iconic Noosa River Race, to be held on 2 December will be a day to remember.
In the words of club spokesperson Colin Jones, "There is so much to do to put on a race like this knowing that we can expect hundreds of competitors. Our organising committee has crossed the Ts and dotted the Is on all of the applications to Maritime Services Queensland and Noosa Council. Our catering team is compiling shopping lists to feed all of the hungry competitors.
"We have organised first aid, conscripted people to help manage traffic and parking, spoken to our neighbours and set up a roster for our support boats and crews. Our fingers are crossed for a fine sunny weekend: and hoping that all goes well," he said.
To organise such an event and have it succeed is not just a great thing for the sport, but also for the community at large. It brings people into our town, helps to promote the name of Noosa and also, small as it may be, helps to promote one of our major necessities – tourism.
Sport gets people mixing. Sport gets people talking and, above all, sport puts bums on seats.
So, to all at the Outrigger Club, management, coaches, paddlers, families and workers who have chosen to be part of the incentive and support such an iconic event – well done.
Rowing
On the weekend the first round of the 2023/24 boat season for the Queensland Cup, was held at Alexandra Headlands. This round, named The Zenos, had only two Noosa crews entered, but all round it was a very satisfactory result.
Boat captain Adam Hammersley said, ''We had both crews rowing open men's reserve grade. Boat sweep Mick Gardner's newly formed crew known as the Noosa Dodos made it through to the semi- finals. This was a great effort for the crew as it was their first- time rowing at a carnival. With a good wave running, it is sure to help build self-confidence."
The other crew, the U23s, was under the control of veteran sweep Dave Tomba. Known as the Noosa Pterodactyl, for them the carnival was a double header. First thing was in the semi- finals, (which just happened to be only the second time that they rowed at a carnival), when they climbed on to the wave of the day.
Holding the big one all the way to the beach, they won by 10 lengths. This secured them a place in the final and a gutsy effort saw them finish third to win the bronze medal. Considering that both crews were virtually novices, it was a great confidence builder and the experience was invaluable.
Kayak titles
On the weekend the Queensland Sprint Kayak Titles were held at Coomera Lake on the Gold Coast. From Noosa we had five athletes compete and of these three raced for the first time. According to coach Sharlene Kelly all did an exceptional job. The Sunshine Coast Paddle Sports Club which all athletes are members of, won the overall point score.
The medal tally consists of the following. Ollie Dilliward finished the Qld. club competition with one gold, four silver and two bronze medals. Zara Cross finished with three silver and one bronze; Liam Fell, one gold, two silver and three bronze, and Tom Maker, three gold and two silver. Tom also competed in the Qld School Titles and came home with two silver and one bronze medal. Grace Davies also competed at the Qld School competition and finished with one gold.
Interesting to note that Ollie Dilli ward, Zara Cross, Tom Maker and Grace Davis are members of the Sunshine Beach Surf Club and Liam Fell hails from Noosa.
In summarising, coach Sharlene Kelly said, "It is exciting for the future of sprint kayaking in Noosa with the weekend presenting the most athletes from the area ever to compete at a state titles. Most of the athletes have just started paddling and this was their first competition.
"Their competitive spirit really shone through and they are hungry to improve and get faster. We get to paddle and train on the best river in the world so, I can see our squad is going to grow in strength and numbers very quickly.
"I now see a strong competitive future for sprint kayaking in Noosa. This will lead into the 2032 Brisbane Olympic Games."
To listen to coach Kelly is similar to listening to head coach of Noosa Athletics Mick Hooper.
Both are very positive and are doing everything possible by planning and encouraging our youth to think ahead, be positive and plan for the future. It becomes obvious that some of our youth, are in the right hands.
Athletics
This Saturday will be the Queensland Athletics Relay Championships in Brisbane. Our Noosa Athletics Club has entered 10 teams for both track and field events in U14, U16, U18 and Open age groups, male and female.
''These championships are always very competitive but also lots of fun, bringing everyone together, in a team environment,'' said coach Mick Hooper.
For two of Noosa's young athletes, Luca Gerrard and Marlon Andrews, it will be a great hit-out as they prepare for the Australian All School Championships in Perth from the 8-10 December.
Luca will contest the U15 Triple Jump 3, Marlon the U14 100m and 200m sprints. As they will be coming up against the finest Australia has to offer, we wish both all the very best.
Once again, we find Noosa's young athletes from unheralded sports, such as Jiu Jitsu, kayaking, little athletics and weightlifting, competing against the best Australia has to offer. Not only competing but also making the finals in their chosen events and, in some cases, coming home with medals.