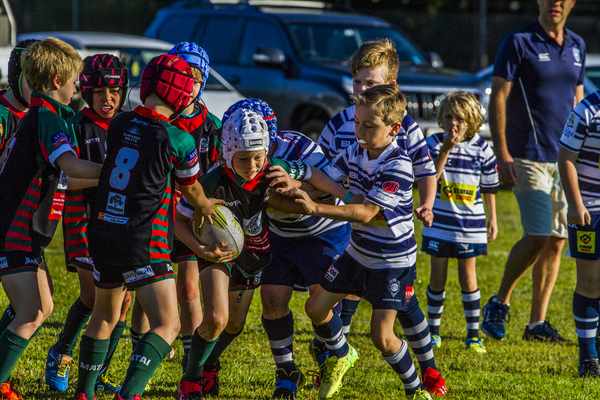 U6 Match Report by team manager Rachael Griggs
The mighty U6 displayed a strong defensive line in both games against Brothers and Grammar on club day. In an effort to pass the ball around, it saw gaps open up in the field for our team to cross the try line several times. Nya scored player of the day for a great defence effort.
U10 Match report by team Manager Pamela Campbell Jones
WOW – what a treat for coaches, parents and supporters of the U10 Dragons at their home game this weekend. They played a well-drilled team from Grammar, but the Dragons forwards proved so strong that Grammar chose not to engage in the ruck. The forwards worked hard and were supported by the backs throughout the game. There were some impressive team tries, with support play being the key.
Whilst Grammar took home the win, the mighty Dragons took home the thrill of a great team game. So much so, the whole team was voted Most Improved this weekend, and Tristan was a deserving Man of the Match.
The Dragons U7's played an awesome game against an understrength Brother team on Saturday in the sunshine at Eumundi. Some of our Dragons players helped out the Brothers in a hard fought match. Zach, CJ and Jax were tireless in defence with Jax having a player of the week performance with his trademark determination helping to snuff out a number of Brothers attacking runs. Tristan, Maya, Henry, Nya and Owen also played very well with some great runs and touches.