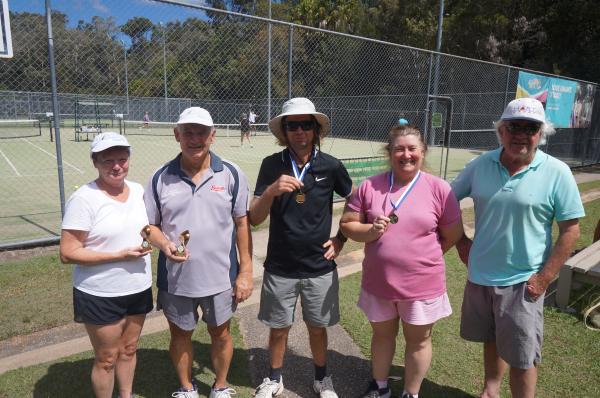 Over 22 teams took to the tennis courts at the Tewantin Tennis Club over the week-end of Saturday and Sunday 11 and 12 September for the annual Club Championships.
Long standing Club members Nic and Judy Kuring took out the Mixed A Grade Doubles Championship trophy.
Nic Kuring said that the weather conditions for the morning's play were exceptional with sunny skies and a pleasant breeze.
He said that the Club Championships always attracted a huge field of entrants as well as an appreciative audience.
"Judy and I were pleased to be members of the Club which had such a beautiful environment and well-maintained grounds," he said.
Nic thanked the organisers of the Championships, particularly the Club Captain, Bruce Campbell for all the work put into the week-end tournament.
Results of the Championships were:
A grade Men's singles: Winner Eli Williams. Runner up: Dan Coates
A Grade Men's doubles: Winners Dan Coates and Eli Williams. Runners up: Jason and Guy Di Pietro
Men's B grade doubles: Winners Bill Karambalas and Jason Reynolds. Runners up: Wayne Speirs and Rod Solomons
Men's B grade singles: Winner Allan Clark. Runner up: Wayne Speirs
Women's B grade doubles: Winners Lois Strano and Val Taylor. Runners up: Barb Emery and Lynn Bray
Mixed A grade doubles: Winners Nic and Judy Kuring. Runners up: Michelle Senn and Martin Hayes
Mixed B grade doubles: Winners Joy Matus and Bill Jackson. Runners up: Lynn and Robin Bray
Mixed C grade doubles: Winners Jenny Mason and Roger Mountford. Runners up: Rita and Ian Chapman.