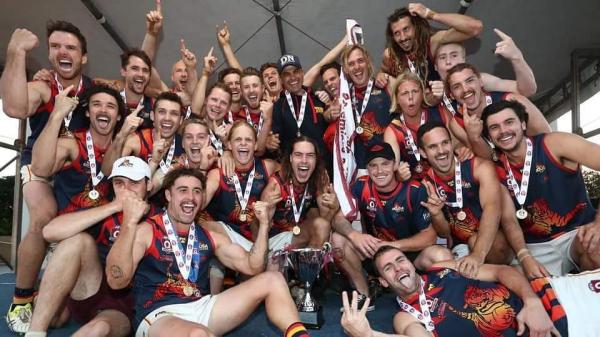 The fallout of the Covid-19 pandemic is being felt right across all levels of sport.
At the local level many winter sports will not be returning while others are still trying to dissect the requirements placed on them by the State Government and their individual governing bodies. In some areas some codes seem better prepared to handle what is required than others. Much hinges on the number and commitment of volunteers in an organisation.
With volunteer numbers on the decline in recent years this has come back to bite many sports.
At the state and senior level we see teams uprooted and relocated and in the last week have seen the disruption that occurs when someone in a players sphere tests positive to the virus. Aiden Tolman from the Canterbury Bulldogs for example. He now finds himself sitting out two weeks of competition after a teacher at the school attended by his child returned a positive test.
There are some up sides. When this happened games were rescheduled in the bat of an eye and without any great disruption to teams players TV networks – all the important people. Previously the thought of rescheduling a rugby league game would have required weeks of planning preparation and discussion. In the new normal – it just gets done.
In the new normal it seems that CEO's of top sporting organisations are required to perform. Dissatisfaction and perceived underperforming or over reacting to the current situation will not be accepted.
This was borne out on Tuesday when the board of Cricket Australia moved to sack CEO Kevin Roberts amid growing dissatisfaction with his handling of the game's response to Covid-19.
Roberts found himself offside with the board, states and players after he made the call to stand down 80 per cent of staff early during the coronavirus pandemic.
CA chairman Earl Eddings Confirmed Roberts had tendered his resignation and it had been accepted by the board.
Seems not every sport has the luxury of a Peter V'Landy's who by his actions in Racing and the NRL has apparently set a very high bench mark for other mere mortals to live up to.
TIGERS PURRING BACK TO LIFE
The Noosa Tigers AFL teams returned to the training paddock last week Amid all of the training restrictions around 46 players split into three groups honing their skills training and eager to get back to full contact training in July if not earlier.
Players are looking forward to a 10 week season and will play in a seven team competition after Caloundra announced they would not be fielding teams.
Tigers coach Adam Bovalino says the club has been able to retain their premiership winning 2019 roster.
The 2020 leadership group has been announced with Aaron Laskey named captain and Isaac McCrimmon named as vice-captain.
Joining the captain and vice-captain in the group are Mitch Fraser, Mick Hill, Tyler Stack and Riley Buntain.
The Colts have also returned to training under the guidance of junior development coach Roger Delaney
The Tigers Under 18's have entered into an exciting joint venture with Coolum and have about 30 players on the books.
The joint venture group have jelled well after the boys attend a training camp pre-Covid-19.
Club president Rob Perves said the Seniors, Colts and Ladies would continue to train on Tuesday and Thursday nights.
A draft plan for a new draw for fixtures is currently being worked on and should be available by the end of the week.
In a further sign that the Tigers are returning to the new normal, the club has announced that the Bar in their clubhouse will open on Thursday from 4.30pm and although there will be social distancing restrictions and restricted numbers many can't wait to get back to some sense of normality.
FEDERER OUT FOR 2020
Fans of the great man of tennis, Roger Federer will not see him return to the world stage in 2020 after he suffered another injury setback and announced he has recently undergone further surgery on his right knee and will not return to the court until 2021.
In a statement to his fans Federer said, "A few weeks ago, having experienced a setback during my initial rehabilitation, I had to have an additional quick arthroscopic procedure."
The Swiss ace has vowed to return in 2021 and who would doubt him.
When many had written him off in 2017, he returned from a lengthy layoff to claim the Australian Open and Wimbledon.
His 2017 season is regarded as one of the greatest comeback seasons of all time. In addition to the two majors Federer won a total of seven titles and finished the year with a win-loss record of 54-5. Federer enjoyed his highest winning since 2006 and enjoyed his most successful in over a decade.
Federer turns 39 in August and still holds the men's Grand Slam singles title of 20. However his arch rival Nadal and Djokovic are circling.
It would be a brave person to suggest Federer who has such a wonderful rapport with the public can make a successful return in 2021.
NETBALLERS WORK THEIR WAY BACK
As Noosa Netball players work towards a return to the court in 2020 the Representative players are leading the way. They were the first players allowed back to training this week. While everyone has enjoyed the return to training everyone is reminded that they must bring their own hand sanitizer, water bottle, follow the appropriate mud map to your court and come ready to train. Remember your coach cannot apply any strapping.
NOOSA PIRATES NO TO HUB
The Noosa Pirates Rugby League carefully considered the proposal of the SCGRL to play to all games in 2020 at a centralised hub in Kawana.
The proposal put SCGRL at a President's meeting last week virtually eliminated any revenue and home games for Pirate's players, members, supporters and sponsors for the 2020 season were unacceptable, and therefore we did not nominate any teams.
The Management Committee of the Pirates believe this would be simply unviable in a financial sense, and place unrealistic demands and expectations on players, volunteers, supporters and sponsors.
A number of other clubs in the SCGRL competition have also chosen not to play under these current conditions.
The Management Committee would like to make it clear that the club wants to play in a 2020 SCGRL competition and hopes to continue working with the QRL and SCGRL the hope of finding a way to play a traditional 'home and away' fixture format which is the lifeblood of community sport.
Players will return to training this week as these issues will need some time to play out.
All should is not lost just yet. Many believe that the Senior competition can be resurrected as the QRL have advised, that a week or two there will be a much clearer picture of 'where to' and 'how to next'.
This timing and 'wait and see' consideration advised by the QRL (while we train), will hopefully coincide with earlier than anticipated lifting of some of Covid-19 restrictions. Hopefully this will have a positive effect on the position of the Pirates club and others in the New Stadium limits were announced earlier this week and it is likely these will convert to local community venues.
The Committee is hopeful that commonsense prevails and that we can get back to playing Rugby League this year.
JUNIOR PIRATES IN HOLDING PATTERN
The Sunshine Coast Junior Management Committee has taken the QRL advice to wait for one to two weeks before making a final decision on their 2020 competition formats, as Covid restrictions continue to lift and be relaxed.
The decisions made by the Pirates Senior teams has no bearing on the Juniors.
The Junior teams who are by a separate Sunshine Coast administration body to the Senior teams.
There appears to be every chance that the Junior competition will proceed in 2020 with formats etc. to be worked out in the coming weeks. Details will be released as soon as possible,
In the meantime, Junior teams are allowed to return to training as are the senior teams. The club will be finalising the times, dates and setup with Team Coaches and Managers this week. Our Senior teams will 'road test' the Covid training setups this week at Tewantin. Players and parents are asked to keep across developments on the clubs Facebook page.
NOT QUITE ON THE KITTY YET
Although bowlers should be able to get back on the greens shortly Covid-19 restrictions remain in place.
Bowlers are welcome for Roll-ups at the following times.
Tuesday – 10am to 11.30am and 12pm to 1.30 pm
Wednesday/Thursday/Friday – 10am to 11.30am and 2pm to 3.30pm
Saturday/Sunday – 9am to 10.30am and 11am to 12.30 pm
Bowlers are reminded that it is essential to book a time for Roll-ups due to the number restrictions. Bookings can be made by calling 07 5449 7155 and selection option one.
Bowlers are welcome to come to the club for a drink with friends but again due to restrictions please check with the staff prior to entry as the patron limits are changing.
PGA TOUR BACK IN TEXAS
After a 13 week enforced lay off the PGA Tour resumed last week and it was a week like no other in PGA history. Players created their own slice of history when they teed off in the Charles Schwab Challenge at the revered Colonial Country Club in Fort Worth, Texas.
The first event since the cancellation of the tour went ahead without the usual gallery of spectators but it still went right to the wire. A two-man playoff, Daniel Berger and Collin Morikawa headed off to play extra holes to determine who had the honour of wearing the winner's plaid jacket, in very unusual circumstances.
It was Berger who prevailed after at least eight players held a share of the lead in an exciting final round.
Berger parred the first hole and won the championship trophy when Morikawa missed a three-foot putt to force a second playoff hole.
In spite of many doubters the Tour event was a success. Many of the players seemed to enjoy the environment although at times it seemed a little eerie and slightly surreal. More importantly not a player caddie or official tested positive to COVID-19 following the tournament after everyone at Colonial adhered strictly to the social distancing protocols.
The biggest win of all.
IMPROVEMENTS FOR DOLPHINS CLUB
The Dolphins unveiled a new shed last week. It will be a great asset for the club and will assist with player training.
The club received a Federal Government grant of $50,000 to assist with the building of the shed. It will allow the club to expand their current gym which will be invaluable to both the Colts and Seniors.
The club caters for 450 players of all ages and this facility will provide a more comfortable area for players to prepare for games and serve current and future.
Spokeswoman for the club, Donna Frey says the club has now embarked on fundraising effort to raise $15,000 to complete the project by paving the area and completing electrical work.