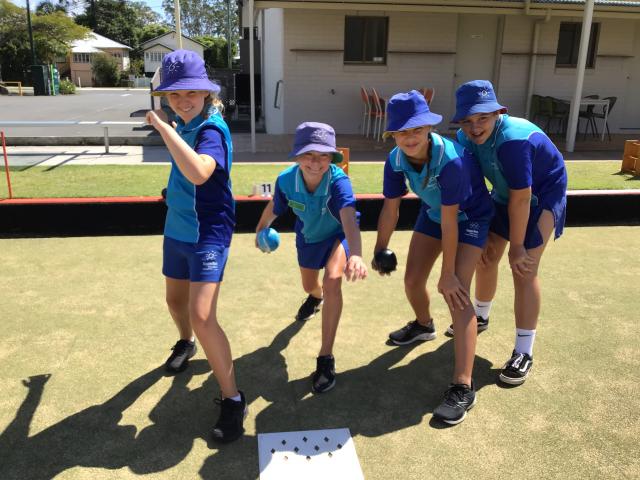 Sunshine Beach State School (SBSS) is going above and beyond to provide its students with unique sporting experiences that extend beyond the usual curriculum.
For the fourth consecutive year, students in Year 6 have had the opportunity to explore sports not commonly found in primary physical education programs such as lawn bowls and golf.
This initiative has been made possible through partnerships with the Tewantin Noosa Bowls Club and a professional golf coach, offering students a chance to step out of their comfort zones and into the world of various sports including lawn bowls and golf.
In collaboration with the Tewantin Noosa Bowls Club, students were introduced to the world of lawn bowls, guided by volunteer coaches who brought their years of experience to the bowling green.
For many students, it was their first-time setting foot on the lush green lawns, and they soon discovered the surprising challenge that lawn bowls presents. Quotes from some of the students reflect their initial experiences and growth in the sport:
Jazmine said, "It was really a lot of fun, and the instructors were very helpful, even though I tried hard I struggled to get the hang of it."
Harvey added, "I liked it a lot. It was a lot of fun to play with your friends and have a bit of competition. It was difficult but super exciting when our bowl got close to the 'kitty'."
The golf sessions brought an equally exciting change to the physical education curriculum, with a professional golf coach guiding students through the fundamentals of the sport.
Emphasising stance, balance, and form, students embarked on a journey to master the tiny white golf ball.
Competition among students was fierce as they vied to see who could send the ball the farthest down the oval. Here's what a couple of students had to say about their golf experience:
Koby said, "It was very interesting. Difficult at first, but as you practised more, it became easier and more enjoyable."
Azarni said, "Golf was a great time out of class. We were able to partner up with our friends and learn how to swing an iron. The instructor was kind and patient with everyone."
Mr Black, Year 6 teacher at SBSS, expressed his excitement about the initiative, saying, "This adds an element to our week that is exciting and out of the ordinary. It is fantastic witnessing different students shine with these less common but very challenging sports."