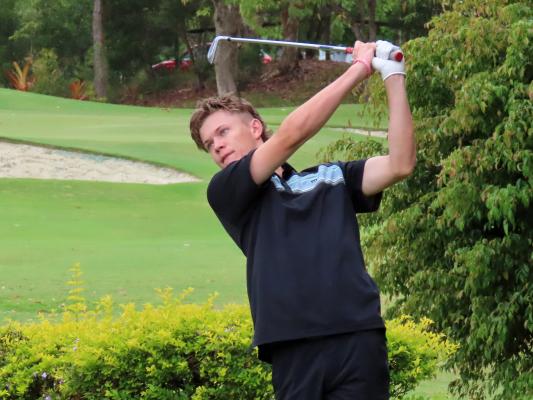 By Peter Owen
Noosa's A grade team, the defending champions, scored a stunning 6-1 victory over previously unbeaten Maroochy River in the season's final pennant fixture round on Sunday to book its place in this weekend's semi-finals.
It was a win against the odds, as the powerful Maroochy River team had taken all before it this season, and Noosa's form had been inconsistent.
But the defending champions did it easily – with Toby Harding (1 up), George Giblett (3&1), Alec O'Brien (3&2), Cooper Clarke (1 up), Sam Aboulden (2&1) and Ryan Mulder (6&5), all scoring impressive wins.
They will take on Mount Coolum in Sunday's semi-final at Noosa Springs with the winner going straight into the final at Gympie on 1 August.
And in what was a great day for Noosa, the club's B grade and Masters pennant teams also won their way into the semi-finals.
In B grade, Noosa beat Twin Waters 5-2, with wins to David Mills, Michael Nasseriddin, Justin Morgan, Chris Wright and Ben Meredith, while Noosa's Masters team, led by Graham Farrell, Darren Wylie and Nev Hazlett, crushed Twin Waters, 6-1.
Both Noosa teams will play sides from Mount Coolum in Sunday's semi-finals at Maroochy River.
Cooroy's team in B grade, led by colourful former professional Marc Bright, maintained its unbeaten record to whip Maroochy River 5.5-1.5 and secure a semi-final spot against Peregian at Maroochy River on Sunday.
And Noosa Springs, with Michael Mason, Andrew Horner, Andrew Tregaskis, Simon Cotton, Chris Collinge and Jean Luc Chaudet all notching wins, beat Gympie 6-1 to book a semi-final spot against Headland in the Masters division.
New greens super at Cooroy
Warren Smith, currently second in charge at Noosa Hills, has been appointed greens superintendent at Cooroy. He will take up his new role on 9 August.
Smith, who managed the private course at Cooroy Mountain for many years and was responsible for most of its construction, replaces Todd McNamee, who has moved to Mount Coolum.
Experienced in all aspects of the role, Smith has made plans to meet Cooroy's greens staff and inspect the course before he starts.
Brendan O'Brien has been filling in since McNamee's departure, and club officials say he has done a superb job.
Noosa veteran in the mix at Bargara
Noosa's Simon Tooman, after sharing the overnight lead on five-under-par 67, faded slightly with a second-round 73 to finish fourth in last week's Bargara Legends Pro-Am.
Tooman, a member of Noosa Golf Club and a consistent performer on the Legends Tour, was four strokes behind red-hot Andre Stolz, who scored his second straight victory, shooting matching rounds of 68 for an eight-under total of 136.
Stolz, the reigning Australian Seniors champion, had also won the previous event at Yeppoon.
Golfing legend Peter Senior was runner-up both times, prompting him to comment: "I wish this Stolz fellow would go back to where he came from."
Tooman picked up $1164 – more than meeting expenses for his Bargara trip.
He didn't have the same luck at Hervey Bay at the weekend, however, shooting rounds of 75 and 77 to finish in the second half of the field.
Who won? You guessed it. Andre Stolz again – this time shooting rounds of 67 and 66 for a four-stroke victory that took him to a commanding lead in the tour's Order of Merit.
Tash and Tracey in district team
Tash Baker (Noosa) and Tracey Carter (Noosa Springs) have been named in a six-woman district team to compete in the Meg Nunn Salver tournament at Toowoomba's Middle Ridge golf course in early September.
The annual inter-district tournament, usually contested by teams from six districts across Queensland, is a matchplay event for women on low handicaps.
Tash and Tracey, along with golfers from Bribie Island, Headland, Pelican Waters and Caloundra, will represent the Sunshine Coast and Burnett district.
Good showing by Bronson
Bronson White was the best performed Noosa representative in this month's two-day Winter Classic at Brisbane's Keperra golf course, shooting rounds of 77 and 81 to finish 19th in the event which was contested by southeast Queensland's best juniors.
Bronson, a Noosa member, finished 16 shots behind the winner, Southport's highly promising Billy Dowling, who scored 73 and 69 for the 36-hole event.
Wine down for Skins series
Registrations are now open for the third of this year's Noosa Springs Skins Series, where golfers vie for prizes of bottles of premium wine in a fun, social team stableford competition.
Teams of four players play a 'skins' event, seeking to get the highest number of points on each hole, and win four bottles of wine for the team.
If there is a tie – as there often is – the prize jackpots to the next hole, and keeps jackpotting until there is a clear winner.
The next event is at noon on Wednesday 8 September. The cost is $85 ($39 for Noosa Springs members), which includes lunch and post-game nibbles.
Club competitions
NOOSA
Monday, 12 July
Women's stableford: Karen Haynes 38c/b, Janis Rimkus 38; women's stableford, 9 holes: Kay Evans 18.
Tuesday, 13 July
Men's stableford: A grade – Rick Coneybeare 40, Darren Weatherby-Blythe 38, Murray McMillan 37c/b, Shaun Taylor 37c/b; B grade – Regan Payne 39c/b, John Henshall 39, Gary Wood 38, John Loader 37; C grade – Michael Masters 40, Keith Moore 37, Peter Turnbull 36, David Hinder 35.
Wednesday, 14 July
Vets stableford: A grade – Michael Morgan 40, Pete Blair 39, Barry Robinson 39c/b; B grade – John Eldridge 37, Ian Dalrymple 36c/b, Eugene Barry 36c/b; C grade – Frank Thorne 39, Ken Wales 36, John Kerr 34c/b.
Thursday, 15 July
Women's Monthly Medal, stroke: A grade – Sharon Vickers 76, Peta Mancktelow 77c/b, Rungratree Cox 77c/b; B grade – Noreen Scanlon 72c/b, Gail Murden 72, Kathleen Anschau 74c/b; C grade – Alice Daw 72c/b, Tracey Skeppstrom 72, Christine Baker 74.