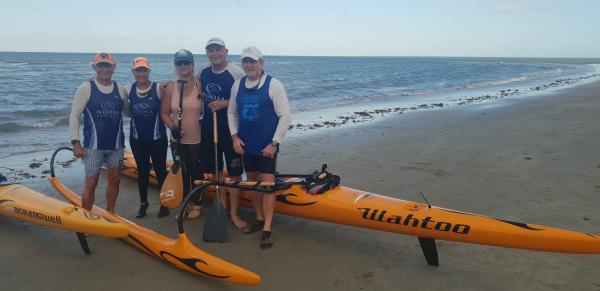 By Jo Searle
Outrigger canoe events can come in many guises involving six-man, three-man, two-man and one-man canoes over sprint and various long distance events.
Thirteen years ago, Port Douglas Outrigger Canoe Club (PDOCC) introduced a unique event capturing a fun-filled yet arduous event running from Yorkey's Knob to Port Douglas in Far North Queensland just north of Cairns.
The event runs in the direction of a following sea and this year nature played her part. A lovely south easterly wind of about 10 knots arrived which caused the sea to develop very pleasant choppy conditions to assist paddlers surfing and tapping the ocean's energy.
The 43km long course is broken down into four legs of approximately equal lengths, allowing relay teams as well as iron paddlers to enter.
Noosa Outrigger Canoe Club representatives were Flea White who won the Master Women iron OC1, Peter Braden and Phil Bensted who won the Golden Master Men OC1 relay, and Wendy and Des Mabbott who won the Golden Master Mixed iron OC2.​ All Noosa paddlers finished within two minutes of one another in total times of four hours and five minutes.
Each leg of this intense race had its challenges and everyone had their own story to tell at the end.
All competitors were indebted to the PDOCC for their extensive efforts in organising the race, especially in these current tim​es.
A couple of weeks prior, many NOCC members travelled to the Gold Coast for the first race for the South Queensland Zone. Hosted by Southport Outrigger Canoe Club (SPOCC), both long and short course races were held within the Broadwater across the day.
Conditions in the Broadwater are always interesting with changing tides and winds and many pleasure craft to dodge.
Noosa paddlers entered many of the events and achieved great results. The first race of the day was the Men's 10km long course and Noosa results were Senior Master Men first in 49 minute 42second out of five crews in their age group and eighth over the line out of a field of 37 crews.
In the Golden Master Men division, the Noosa crew steered by Roger Chaffey placed second in 50:42 and the crew steered by Marco Rocco placed fourth in 51:37.
The next race was the Women's OC1/2 10km long course with Noosa results including Cath McKee and Manuela Frank second in Senior Master Women OC2 in 59.52, just 13 seconds behind the winners and second over the line in the field of 16.
In the Senior Master Women OC1 division, Nicola Cameron achieved 1hr09min31sec in her first OC1 race, and the third single craft over the line.
The Mixed 5km short course, was next with Noosa also entering three women's crews. Noosa results were Master Women finishing in 34:19 and 14th over line in a field of 46 mostly mixed teams.
Othe Noosa results in the short course were the Novice Master Mixed who placed third out of seven crews in the division in 35:59, the Senior Master Women in 36:23 and Novice Master Women in 39:24.
The final race of the day was the Women's 10km long course, with Noosa's Senior Master Women crew steered by Stacey Phillis taking line honours in 51:47, after starting in the second wave with all Open and Master crews having started in the first wave.
In addition, the Master Women crew were first out out of 10 teams in their division and sixth over the line in 54:07, and the Senior Master Wonen's crew steers by Gina Kenny placed fourth out of 6 crews in thier divisiob and eighth over the line in 55:07.
A great day of racing was enoted by all with thanks to SPOCC for hosting a grear event.
Now preparations are underway for the next race in Scarborough on 21 November ahead of NOCC hosting the third race on 5 December, the Laguna Bay Challenge.
For more information or to come and try, please head to the NOCC website https://www.noosaoutriggers.com.au