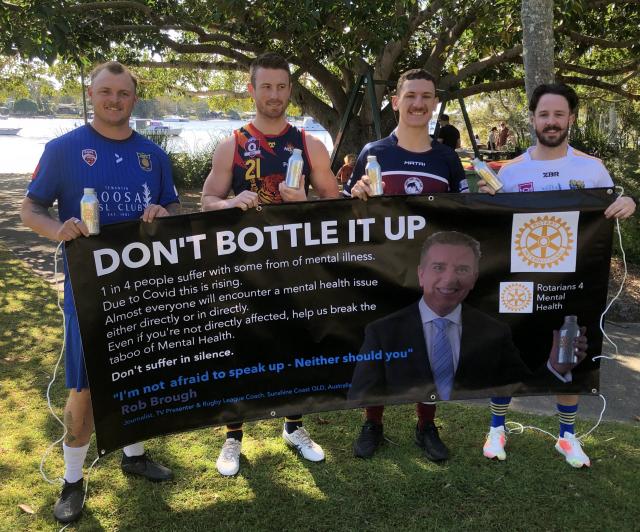 Noosa's football stars joined the Don't Bottle it Up campaign on Saturday, highlighting the positive benefits of sports participation in assisting with mental health issues.
The Rotary driven initiative, Rotarians 4 Mental Health, is aimed at encouraging people touched by mental health issues to reach out, speak up and seek assistance.
At Noosaville Lions Park, community members met Aaron Laskey of Noosa Tigers, Will Christie of Noosa Dolphins, Corey Dodson of Noosa Lions and Hayden Trask of Noosa Pirates, to send a joint message on the importance of sport in developing a healthy lifestyle.
Hayden Trask from Noosa Pirates said it was an honour to be a part of the Rotary initiative.
"Mental health and PTSD has touched so many people in today's society and has touched me personally, as well as those close to me," Hayden said.
Will Christie of the Dolphins said, "Playing at the Dolphins provides excellent opportunities for further progress on the field, but also off the field in regards to our player welfare program, which looks after our players in so many ways."
Within the four football codes in Noosa, there is a collective recognition of the very important role that the individual clubs play in creating a climate where the importance of wellness and support programs exist.
Corey Dodson of Lions said, "One of the things that soccer has given me is the friendship you get from mates on the pitch. My mates at the Lions have helped me so much when an issue that impacted my life happened."
A key initiative of Noosa Tigers is the planned establishment of a mental health community hub at Rococo Oval.
When built, it will be available to assist members of the community, community groups, sporting clubs and schools.
Noosa Tigers captain Aaron Laskey said, "It makes me proud to be a member of the Tigers footy team, and the plans from our club to build the mental health hub that will help everybody in the community."
"Our footy club is to be commended for doing this."
Rotary clubs of Noosa Heads, Cooroy, Eumundi, Noosa and Noosa Daybreak are actively working through the Don't Bottle it Up theme aligned to the Rotarians 4 Mental Health campaign.
Chairman of the organising committee, Bob Birkhead, from Noosa Heads Rotary Club said, "This initiative by all five Rotary Clubs is aimed at addressing mental health issues in the area through a program of creating awareness, education, knowledge, support and potential pathways for people who have been touched by a broad range of mental health issues, including PTSD.
"We aim to try and demystify the taboos that are associated with these issues by encouraging people to reach out and Don't Bottle it Up "