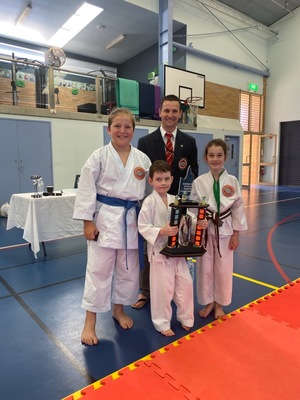 By Ron Lane
On Saturday students from some 20 schools throughout Queensland gathered at the Good Shephard Lutheran College Noosaville for the Queensland School Karate Championships.
Hosted and run by the Sunshine Coast Martial Arts Institute and under the direction of Chief Instructor (sensei) Bryan Dukas 6th Dan it was the third year that the College has been gracious in its support of this event.
The program which consisted of Kata and Kumite saw members both boys and girls from as young as five taking part.
The kata is a pattern of movements practiced alone or in a group and kumite is sparing.
"The standard of the kata movements was very pleasing and it was encouraging to see the performance of some students, aged in the 10/11 group," said Sensei Dukas. "Their movements were very fast and fluid. To start martial arts at a young age and perfect the katas would be a major step forward in their career."
With a large number of students present there were many kumite bouts with both boys and girls covering a wide age group.
As in previous years all were well conducted and as always a medical officer was ever present.
The overall result saw a win for the Good Shepard Primary School.
It was indeed very encouraging to see a good number of family members in attendance and it was interesting to see a number of senior aged performing katas.
As with all sports a major factor is of course sponsorship and on this occasion amongst those were Imsold Real Estate and Dot Medical.
On behalf of his trainers, judges' support group and most important of all the parents, Sensei Dukas expressed his sincere thanks.
Another annual event for our community The Young Guns Amateur Boxing Tournament, hosted by the Impact Boxing Academy Cooroy, will again be held in the hall of the Noosa District State High School Cooroy this Saturday.
Weigh-in will commence at 11am and bouts will commence late afternoon. With teams coming from all over the state this is assured to be a great evening of boxing.