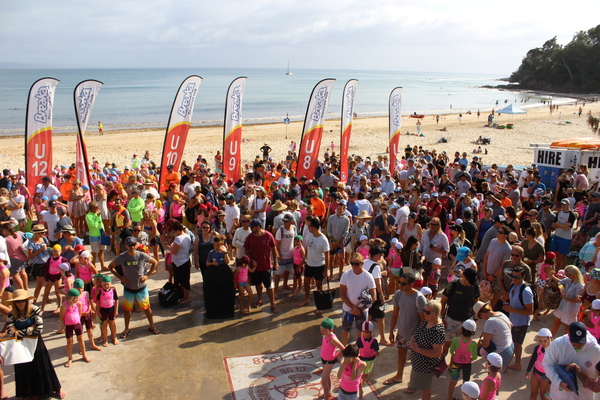 On the Nipper schedule for surf carnivals, the annual Rainbow Beach Carnival would have to be one of the biggest of the year; and last Saturday it was on again.
I am happy to report that, with over 750 nippers competing, it was in the words of Sunshine Coast Branch manager and team selector Craig Law probably the biggest ever.
"Everything was in our favor, great attendance by all Sunshine Coast clubs and safe conditions. We will soon be selecting the team to represent the Sunshine Coast at the Queensland Inter Branch Championships to be held late November," Law said. "This will be a big occasion. For the last 11 seasons our team has won the championship and to do it 12 years in a row would be a great achievement.
"Apart from winning it also tells us the future of lifesaving on the coast is indeed looking very good."
Further to this Noosa Director of Surf Sports Peter French said: "The nippers are a major factor in the future of lifesaving so we totally support them in all aspects. We have supported the Rainbow carnival since it began and always will.''
For the Sunshine Beach Nipper club some 90 members were in attendance and with members from under8 to under15 contesting all events, their results were very good.
The Noosa/Peregian Nippers were also represented by a very strong team and the results of events (too many to mention) were very pleasing to their coaching panel. The winning factors common to all our nipper clubs are good administration, great coaching panels and family support.
In senior competition the Noosa boat section is looking the strongest ever.
The boat section which was established in 1949, now has a total of 14 boat crews and they will compete under the control of three boat sweeps, Mick Gardner, Dave Tomba and Stewart Cooper.
Boat Captain Anthony Fox said: ''This number is made up of eight female crews; three under 19, two under 23, two reserves and one open. In the men's section it comprises of two under 19, one reserve and three masters. Also this year plans are under way for our masters to again row in the George Bass Marathon; an event that they contested for the first time ever, two years ago.''
Starting at Batemans Bay and finishing at Eden it is run over seven days and for this event the crews are made up of eight rowers and a boat sweep. It is generally considered to be the toughest boat race in the world and with our masters rowing in the maroon and white of Noosa it is something in which our club can take pride.
The first ever marathon was in 1975 and amongst the 12 crews to take part was a crew from Atlantic College in Wales. Since then crews from New Zealand and Great Britain, have along with Wales and all states from Australia added their names to those that have accepted the challenge to take part in this, the most challenging surf club event of all.
Not to be left out in the mid-90s the ladies were accepted and a crew took part. Also it was during this period that for the first time that sliding seats were used in open surf boat racing. We wish them well.
Not only does the performance of these lifesavers add to the reputation of our competition teams, but it also adds some 40 members who are fit and used to working in a team environment, to our core business of patrolling Noosa Beach. A win–win situation for the community of Noosa.