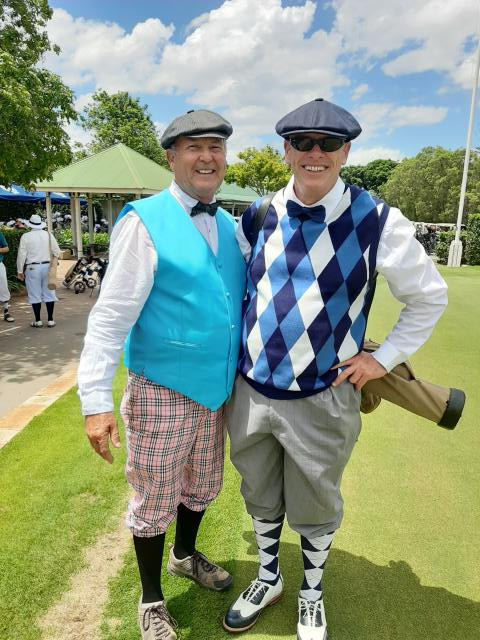 By Peter Owen
GRATHAN Leatherbarrow, resplendent in plus fours, a neat bow tie at his neck and a tam o'shanter perched on his head, describes himself as an historian of the game of golf – and certainly of Cooroy Golf Club.
He knows, for example, that young Michael Robinson won the club championship – and the junior championship – four times between 1988 and 1992, going on to win the club championship an astonishing 11 times.
He recalls current manager Wayne Patston winning both the club championship and the matchplay title in 2011, and Lee Christie winning that same double in 2009, then repeating the feat the following year.
But none of those outstanding golfers ever did anything to compare with the success Grathan himself has achieved this year.
Over the past few months he's won the club championship, the club matchplay championship, the vets championship and, inevitably, the title of Cooroy's Player of the Year.
He calls it the 'Cooroy Slam', and points out proudly that his record can never be beaten – only equalled.
Grathan – pronounced the same as Hondo Gratton, the dual Inter-Dominion pacing champion from the 1970s, from whom Grathan has gained the nickname 'Hondo' – is bewildered by what he's achieved.
"It's just extraordinary," said the 73-year-old, who has become the Sunshine Coast's champion of traditional hickory golf. "You're not supposed to be doing things like this at my age."
Grathan's love affair with golf began in 1975 when he was transferred by the Commonwealth Bank to work in its Port Moresby office.
He had a few lessons, devoured Jack Nicklaus' book 'Golf My Way' and within three years had trimmed his handicap to five.
In 1978 he won the Port Moresby Open against a field that included PNG's Eisenhower Cup team, the Lions Classic in Port Moresby, and became the club champion of the Boroke RSL Golf Club.
When he returned to Brisbane he played for the first time in the Australian Amateur Championship at Royal Queensland. He played again in the national championship in 1991 at Royal Hobart, not far from where he was born.
Transferred to Bowen, Grathan helped resurrect the Whitsunday Junior Open where, in 1985, one of the competitors was an eight-year-old Karrie Webb who, years later, would team with her coach Kelvin Haller to be runners-up to Grathan and his playing partner Patrice Slade in the Collinsville Mixed Open in north Queensland.
Grathan was awarded an Australia Day Medal and the title of Bowen's Sportsman of the Year for his contribution to junior golf within the shire.
He's been playing hickory golf for more than 40 years and is a member of Queensland Hickory Golf, which conducts regular tournaments at Royal Queensland, Brisbane Golf Club, and at Toowoomba and Cooroy.
Grathan shot rounds of 79 and 73 – a hickory course record – earlier this year to win the Bobby Jones Classic at Cooroy, and regularly plays a hickory round with his mates on Thursday afternoons.
Noosa product wins top event
TAJ Egea, who began his career as a pint-sized junior at Noosa Golf Club, has won the boys 15 and under division of the Greg Norman Junior Masters, one of the state's most significant tournaments for young golfers.
Taj, the son of former Noosa teaching pro Andrew Egea, represented Noosa in junior pennant competition when he was just 10.
Now a member of Brookwater Golf Club, Taj shot rounds of 70, 75, 71 and 74 to win his age group in the tournament played at Palmer Gold Coast.
Maddison Kelly, a junior at Noosa Springs fired round of 79, 80, 84 and 80 won finish 11th in the girls 15 and under division. It was this division that produced the overall girls' champion – Emerald Lakes' Sarah Hammett, who had rounds of 71, 67, 71 and 72.
Terry combines golf with writing novels
When he's not chasing birdies – or, more realistically, bogeys and the occasional par – at Noosa Springs, Terry Quinn returns to his home and quietly enters a secret world of drugs, sex, rock 'n' roll and brutal crime.
Quinn, a former newspaper editor of international standing, has just completed his third thriller novel, Dead Beat – and is working on ideas for his fourth.
"It's great fun writing the books," Quinn said. "It allows me to get lost in an entirely different world."
A Noosa resident for the past 17 years, Quinn is a newspaper industry legend. Once the editor of the Daily Record, Scotland's major newspaper, Quinn went on to become vice-president of Thomson Newspapers in North America and publisher of Fairfax's print titles in New Zealand.
He became editor in chief of APN Newspapers in 2004, in charge of dozens of daily and weekly newspapers in Australia and New Zealand, and responsible for more than 600 journalists.
His first novel, The Scoop, a rollicking tale of adventure on the seas of south-east Asia – later relaunched as Dead in the Water – was published in 2018, and was quickly followed by Dead Line, a political thriller set in London.
Dead Beat, a novel about a shady record producer who traffics girls on the dark web, again features his hero – larger than life Australian journalist Jonno Bligh, who now edits a British tabloid.
Quinn called on the experiences of an old record producing friend to add reality and detail to the music scene background he describes in the book. He needed nobody to help with the newsroom insight.
The book is now available on Kindle, and Quinn is enjoying life as an author so much he has no intention of quitting anytime soon.
He still finds time to play golf two or three times a week, though the 24-handicapper has no illusions about his skill on the fairways.
"Let's face it, I'm a hacker," he says. "I have trouble concentrating – I think too much about the next scene and the next chapter."
Burns is an evergreen contender
It took an icon of the game to deny Yandina Creek's Brad Burns outright success in the Sunshine Coast swing of the Legends Tour last week.
After a series of pro-ams throughout the region, Burns narrowly went down to Peter Senior for the title of Sunshine Coast Series champion.
Senior wrapped up the title when he shared victory with Order of Merit leader Andre Stolz in the Sunshine Coast Masters, a 36-hole event played at Twin Waters. Burns was third.
It was Senior's first win during the December swing, but he has been so consistent – contending in every event – that his combined total of 11-under-par was two shots better than Burns nine-under. Stolz was a further two shots back.
Noosa's Simon Tooman shot rounds of 75 and 68 to be tied seventh at Twin Waters, with Eumundi's Hugh Dolan and Noosa's Mark Tickle well back in the field of master golfers.
Club competitions
NOOSA SPRINGS
Monday, 13 December
Men's 4BBB stableford: Paul Grant & Simon Gamble 47, Martin Cook & Jeff Pearce 45, Jeff Barrett & Joost Wamsteeker 44c/b; women's stableford: Sarah Bate 40, Sandra Probert 39, Jenny Hickey 38c/b.
Tuesday, 14 December
Men's stableford: Martin Scollon 34c/b, Rod Shilkin 34, Phillip Fortington 32c/b.
Wednesday, 15 December
Men's stableford: Geoffrey Phillips 43, Philip Starkey 41c/b, Damien Nicholson 41; women's: Jan Fancsali 39, Mally Jane 37, Dee Pugh 36c/b.
Saturday, 18 December
Men's Christmas stableford: Ian Lemmey 38c/b, Hartmut Schlichting 38, Alan Emblin 37c/b; men's stableford: Peter Foulsham 40, Mike Cawsey 39, Murray Hopping 34; women's stableford: Marlo Douglass 42, Judy Buss 41, Robyn Buchanan 39.