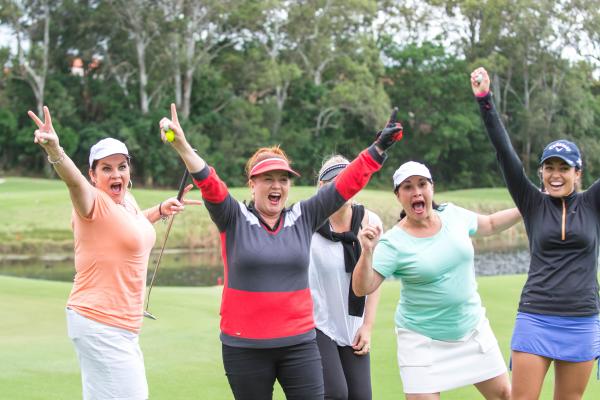 By Peter Owen
WHEN Bruce Davidson turned 70 last month, with his golf game going nowhere, the popular former politician had a choice to make – give up a game he'd been playing for more than 30 years, or do something about it, and work harder.
The man known universally as 'Davo' has never been a quitter, so he bought a new set of Ping clubs, worked out at the gym with a new intensity, and even put in the odd session of practice.
Gradually the form that had once seen his handicap drop to as low as eight returned.
And last week, playing off the generous mark of 19, it came together, with Davo scoring 43 stableford points in the Tuesday Club competition, notching a three-point victory.
"I left a few shots out there," he said. "But it was a pretty good round of golf.
"I'd been having a rough trot, and my handicap had drifted to the point where my mates were calling me 'a bloody burglar'," he said.
Davo, who served as Minister for Tourism, Consumer Affairs and Regional Development in the Borbidge government, has been a member of Noosa Golf Club for 30 years.
With politics and business now largely behind him, he gets to play two or three times a week, and is looking forward to reducing his handicap to 12 or 13.
When he's not strolling Noosa's fairways, he's fishing – every morning at 5.30am – helping out a few friends, and enjoying the company of his grandchildren.
Scott says No to Olympics
PREFERRING to spend time with his wife and three young children, Adam Scott has opted out of the Olympic Games, paving the way for weekend PGA Tour winners Marc Leishman and Cameron Smith to represent Australia in Tokyo.
The men's Olympic golf competition starts on July 29.
Scott's manager John Elliot said that was the only time between now and October that Scott could be with his family 'for a stretch of time.'
Leishman and Smith who, like Scott, has strong ties with the Sunshine Coast, won the Zurich Classic of New Orleans on the PGA Tour on Sunday.
They beat the South African pair of Louis Oosthuizen and Charl Schwartzel in a playoff in the team event that gave Leishman his sixth, and Smith his third, PGA Tour victory.
Leishman said he was excited about the prospect of representing Australia in Tokyo.
"I wasn't able to play the last Olympics because my wife and I were trying to get pregnant," he said.
Andrew finds form of old
ANDREW Seal had played only the odd round of social golf before he joined Noosa Springs 22 years ago.
Then, on a schedule of just one round a week, the former Sydneysider managed to reduce his handicap to three.
"I started on 21," he said. "Then things began to fall into place and my scores improved.
"My short game was always good. I was never a great ball striker but I was able to keep the ball in play, then get it close to the pin."
Along the way he won three club championships, including the A grade championship, before a shoulder injury put him on the sidelines, and he eventually saw his handicap balloon to nine.
That was until Andrew showed a glimpse of his best form with an excellent 41 points in last weekend's Saturday stableford competition.
"I played pretty well," he said. "But it was from a generous handicap."
Fine way to raise funds for a great cause
IT'S impossible not to admire the work of the Katie Rose Cottage Hospice – a quiet, leafy house in Doonan, where more than 100 Noosa residents have spent their final days in a peaceful, caring environment.
The hospice, in Beddington Road in the Noosa hinterland, has been operating as a 24/7 facility for nearly three years. It is staffed mainly by volunteers, who operate under the supervision of a small, but highly skilled management team.
A retired Noosa couple donated $1 million for the purchase of the hospice, which gave Katie Rose the security to grow and expand. Since then, relatives and friends have raved about the care and support their loved ones have received.
To raise funds towards Katie Rose's $1.4 million annual operating costs, Noosa Springs is hosting a charity golf day on Sunday, May 23.
It is a 4BBB stableford competition with an 8.30am shotgun start.
The entry fee of $145 ($75 for Noosa Springs members) includes green fees, a motorised cart, refreshments on arrival, a two-course lunch and excellent prizes.
Book by going to https://www.scbdwg.com.au/events/95393.
Carol takes out first Ladies Day event
CAROL Moloney saved her best form for the right day when she scored 41 points to win the first leg of the Ladies Golf Series at Noosa Springs last week.
Carol, a Noosa Springs member, was one of 135 women who turned out for the day – attracted by the chance to compete against her friends, then sit down for a gourmet champagne lunch.
Her score was two better than runner-up Jill Yeatman. Niki Matthews, on 38, was third.
This year's series continues with events in July and December.
Those who play in at least two legs will be in the running for the major prize – a Half Day Spa Escape, which includes a Thermal Suite Experience and a choice of massage, facial or sugar scrub, plus four rounds of golf in an electric cart.
Club competitions
NOOSA
Monday, 19 April
Women's stableford: A grade – Glenys Healey 33c/b, Lynette Cuss 33c/b, Cynthia Duco 33; B grade – Alice Daw 35, Jillian Yeatman 34c/b, Lindy Owen 34.
Tuesday, 20 April
Men's stableford: A grade – David Desilets 41, Tim Butterworth 40c/b, Bradley Juillerat 40, Michael O'Connor 39; B grade – Greg Strang 43, Alec Graham 41, John Osmaston 40, Darren Lehmann 39; C grade – Bruce Davidson 43, Grant Evans 40, Frank Hull 38c/b, Robin Versluys 38c/b.
NOOSA SPRINGS
Tuesday, 20 April
Ladies Day Series, stableford: Carol Moloney 41, Jill Yeatman 39, Niki Matthews 38.
Wednesday, 21 April
Men's stableford: Peter Foulsham 41, John Gavin 39, Greg Taylor 39; women's stableford: Marg Waters 36, Fran Clements 35, Jill Robson 32.
Saturday, 24 April
Men's stableford: Scott McMenamin 45, Jock Robertson 41c/b, Graham Dill 41. Women's stableford: Tracey Carter 39, Coco Moore 37c/b, Leisha McMenamin 37c/b.
Sunday, 25 April
Men's stableford: Luke Cummings 37, Phil Harrison 36, David Anderson 35; women's stableford: Judy Buss 33c/b, Leisha McMenamin 33, Denise Ward 32.
COOROY
Tuesday, 20 April
Women's Canadian 2-stroke (9 holes): Leith Barr & Juanita Langford 35c/b; Sandy Viney & Toni Mason 35.
Wednesday, 21 April
Vets 4-man Ambrose: Michael Loe, Tony Kershaw, Jim Lenske & John Barringer 54.5; Brett LeMoy, Bronco Price, Kerry Davies & Don Esposito 55.5; Mark Kelly, Kelvin Brittain, Peter Brown & Richard Gibson 56.5.
Thursday, 22 April
Women's foursomes: Maria Taurer & Anita Highland 65.5, Desley Walker & Kate Sawrey 66.
Saturday, 24 April
Men's stableford: Div 1 – J. Barringer 41, R. Gibson 39; Div 2 – M. Kennedy 44, P. Brown 36; Div 3 – T. Hayes 37, A, Campion. Women's stableford: C. Clark 35, J. Rabjohns 33.