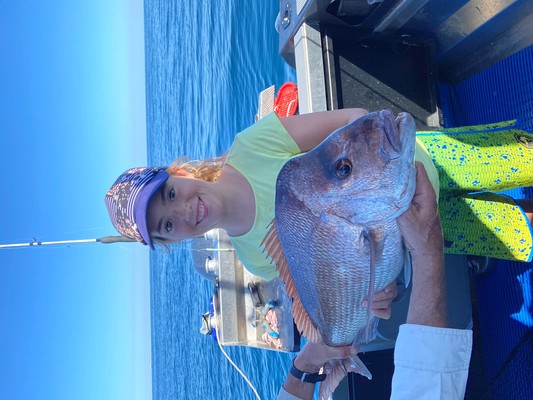 With us all in lock down the only activity that we are able to do is get out fishing and it seems that everybody had that on the agenda. Boat ramps were full and anglers followed the social distancing rules with just two to a boat.
In close Sunshine reef was the popular spot as it's close to home and a great place to target chunky coral trout which were chewing on live baits and fresh slab baits fished hard on the bottom. For anglers using the paternoster reef style rig then sweetlip, cod, venus tusk fish or tuskies and moses perch we on the catch list. There were also a few smaller sized snapper coming in too.
There were some cracking Spanish mackerel around jew shoal and along the halls reef section headed north toward Teewah and Double Island. These fish were falling for trolled hardbodies, slugs and gang hooked pilchard floaters for those on anchor. Be sure to carry wire as you can go through a lot of gear and these fish don't stop when in the mood to hit everything in sight.
The longtail tuna and mac tuna have been prevalent all along the coast and with the sea state so calm there were plenty of reports of longies getting caught in close with both boaties and kayaks getting amongst them. Be sure to have a casting rod rigged with a stickbait or slug as you never know when these speedsters will show up!
In the Noosa River the water is starting to cool and on cloudy days you can expect to find some thumper flatties and bream in the lower reaches around the dog beach, river mouth and along the Gympie Terrace stretch toward the boathouse. These fish love big baits or whole whitebait and hardy heads on light gauge gang hooks for the bait fisherman. Cast these along the drop offs and let the current gently wash it along. For the lure anglers soft vibes with paddle tails have to be the go.
Trevally are still about but fishing around the tide change is the best option especially when the tide is full and clearer. Working soft plastics along the bottom and well as small soft vibes will entice a strike. There seems to be some prawns at the moment so try prawn style lures as these will be getting flushed out and matching the hatch will certainly help.
Putting the crab pots in has been worth the effort, be sure keep them weighted down or close to the edges as the current will be strong. As always using fresh mullet is best or grab yourself a pack of heads.
On the beaches there have been plenty of dart for the young one to catch. Beach fishing has seen a resurgence as it is collecting food so you are allowed to be there without fear of reprisal. For the night anglers there are some nice tailor and smaller jew around on the southern beaches around Coolum and Yaroomba, fresh mullet has been the gun bait.
So on behalf of Jack Mangrove, best of luck on your fishing adventures!