By CLARE ASKEW DUE to the fact that the Eumundi Dragons under-12s scheduled match with Sunshine Coast Grammar School under-12s last Saturday had to be...
By CLARE ASKEW THEY have arrived with a hiss and a roar - the Eumundi Dragons under-10s have found their mojo and a defined rugby...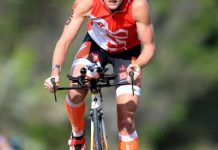 NOOSA'S world champion ironman Melissa Hauschildt has won Australia's most enduring event on debut at the distance. Hauschildt, who moved to Noosa earlier this year,...
By JOE JURISEVIC U13 Noosa 58 d Maroochydore 0 THE under-13s showed up to play rugby with textbook rugby on display. All members contributed to the...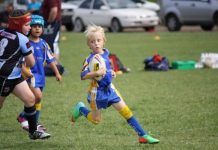 By JODIE BUSHBY Under 15 UNDER-15 A played Gympie at Gympie. The game was played in tough wet conditions. After a solid start the Noosa boys...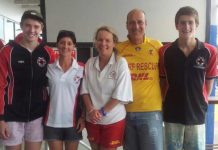 BETWEEN THE FLAGS FOR the dedicated lifesaver the season is like music, it never ends. Last Saturday, Main Beach, Noosa, was under control of the...
A WOMEN-only program to promote fun and fitness on two wheels is set to roll out on tracks around the Noosa area this month. She...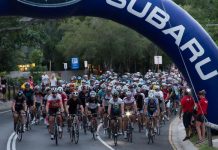 THE streets were alive with the sound of cheering as thousands ran, cycled and swam in the Noosa Ultimate Sports Fest, held in Noosa...
By ANITA ANDERSON LAST week's senior touch mixed games provided some interesting match-ups and varied results. In a close encounter, RSOR 7 came out...
Fishing By JACK MANGROVE THE Noosa River has been a hive of activity over the past weeks, with Easter then the long weekend attracting a...
JO SEARLENoosa Outriggers once again brought great results in the South Queensland race series, competing in the fifth race of the series, hosted by...
ISOBEL COLEMANWhen they lined up next to the opposition on Scarborough Beach, WA, for the Aussies, Sunshine youngsters Thomas Emanuel and Zac Barwicki were...