Tewantin Noosa Golf Results Saturday Single Stableford: A Grade - B. Blakemore 41pts. Runner-up M. Moodie. B Grade - R. Versluys 39pts c/b. Runner-up R....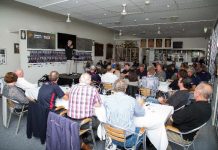 By JORDAN CULLEN Renowned author and playwright David Williamson entertained a crowd of club members and sponsors during a speech at the Noosa Tigers President's...
Noosa Dolphins Junior Rugby Union Round 3 match reports U6 Noosa Fins 45 drew U6 Noosa Reds 45 The game was fast paced in its...
Under leaden skies the Eumundi Dragons U12s played their postponed clash with the Sunshine Coast Grammar School U12s team on Thursday 8 May. This was...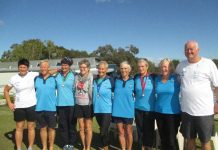 By TONY FROST THE Byron Bay Winter Whales conducted their 27th annual 2.5-kilometre ocean swim from Wategos Beach to Main Beach on Sunday 4 May. A...
Noosa Springs Saturday 10 May 2014 MEN - Single Stableford Blue Tees Div 1 (0-19) 1st David Hay 43 c/b, 2nd Alan Taylor 43, 3rd Paul Grant...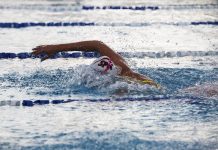 By JORDAN CULLEN NOOSA Aquatic Centre has been home to swimmers from St Peter's Western Swimming Club in the lead-up to the Glasgow Commonwealth Games...
Under 7 White Whites families this weekend learnt a valuable lesson in committing to their kids' sport by a crack of dawn start to get...
WEEK three into the season and Noosa Table Tennis Club is are beginning to spot several teams likely to contend for the finals,...
Keeping in touch LAST week in the under-10s division, Cool Runnings and Blazers played a great game with Cool Runnings taking the win. Pedro, Levi,...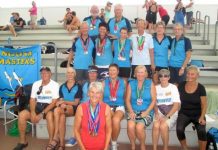 By TONY FROST NOOSA Masters Swim Club fielded 18 swimmers at the State and National Masters Swimming Championships held at Rockhampton over five days, from...
By ALASDAIR SCOTT FOR two weeks in a row, Noosa Lions scored five goals to claim emphatic victories. However, last week's 5-1 win at Caloundra was...