A WOMEN-only program to promote fun and fitness on two wheels is set to roll out on tracks around the Noosa area this month. She...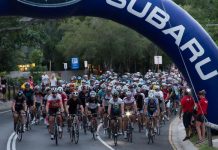 THE streets were alive with the sound of cheering as thousands ran, cycled and swam in the Noosa Ultimate Sports Fest, held in Noosa...
By ANITA ANDERSON LAST week's senior touch mixed games provided some interesting match-ups and varied results. In a close encounter, RSOR 7 came out...
Fishing By JACK MANGROVE THE Noosa River has been a hive of activity over the past weeks, with Easter then the long weekend attracting a...
JO SEARLENoosa Outriggers once again brought great results in the South Queensland race series, competing in the fifth race of the series, hosted by...
ISOBEL COLEMANWhen they lined up next to the opposition on Scarborough Beach, WA, for the Aussies, Sunshine youngsters Thomas Emanuel and Zac Barwicki were...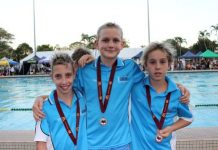 Well done to our Club Swimmers for the month of March, Matthew Lewis and Chenoa Scott, who each received award towels, kindly donated by...
MICHELLE MOOREFleet-footed athlete Jordan Csabi has been dubbed Little Athletics Noosa's new 'prince of speed', having claimed gold in the 200m sprint at the...
Congratulations to Sunshine Beach Surf Club's U17 Patrol Competition team – Suzannah Henshaw, Brock Redwood, Edward Tilleard and Jarrad Greentree - who have taken...
NATHAN MCLEANNoosa Pirates A Grade and Reserve Grade made the tough road trip to Bribie Island at the weekend. After...
The Cooper-Finlay Cup has been played between Over 60s cricketers from New South Wales and Queensland since 2007. Kevin Finlay...
The smell of liniment is in the air again and the temperature will soon start to drop. That all means the footy season is...