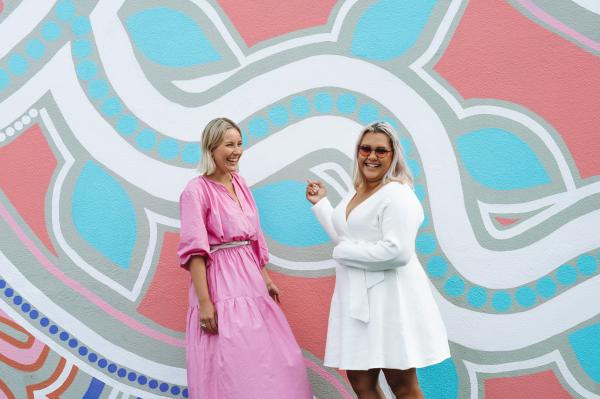 Noosa Junction's first stunning Indigenous street mural featuring traditional Indigenous meeting circles, pathways, and vines, will take centre stage on Saturday 11 September, at the launch of Judabeel.
Judabeel is a celebration of works by talented, local contemporary Indigenous artist, Shauna Hill.
The large-scale permanent mural and artist exhibition is thanks to support and partnership from arts patron and co-founder of CLO Studios, Chloe Tozer.
When the pair met last year, Chloe said their mutual love of art sparked the idea of sharing Shauna's stories in a unique and memorable way.
"I instantly connected with Shauna because she's a talented, young female artist – I've just loved getting to know her and helping her with her journey," Chloe said.
"The mural actually represents the core values of CLO Studios with its distinctive colours and intertwined features, it signifies our family-oriented, majority female driven business.
"Located in the ever-evolving space behind CLO studios, we're proud to help share Shauna's amazing work by making it accessible to everyone in the community," she said.
Shauna's art honours her Gubbi Gubbi and Githibul heritage through stories of the Sunshine Coast, her family, and her home.
Speaking about her work in the upcoming exhibition, Shauna said she drew inspiration from both ancient and contemporary stories and her own personal totem, the kookaburra.
"You can always make something into a story. That's what we do, that's how we keep our stories going, we paint it," Shauna said.
Noosa Junction Association president David Langdon said the mural was a welcome addition to Noosa Junction's growing arts and entertainment scene and congratulated Shauna and Chloe.
"We have this unique fusion of art, music and local village FLAVA in the Junction that has grown beyond expectation. We now have more than 20 individual murals by incredible artists which we'll be celebrating even further when we launch the Junction Street Art Trail later this year," David said.
Launch highlights will include a series of 'bush-tucker' inspired tastes from the Junction's talented foodies – Larder & Baked, The Steamed Bun Company, Herbert, and Vanilla Food, which will be showcased on their respective menus over the weekend. Entertainment under the fairy lights and a Welcome to Country from Shauna's cousin, Brent will add to the celebration.
A virtual gallery viewing will be available to showcase the exclusive release of Shauna's eight contemporary paintings from Monday 13 September via clostudios.com.au
For more information on Noosa Junction go to @visitnoosajunction or noosajunction.net