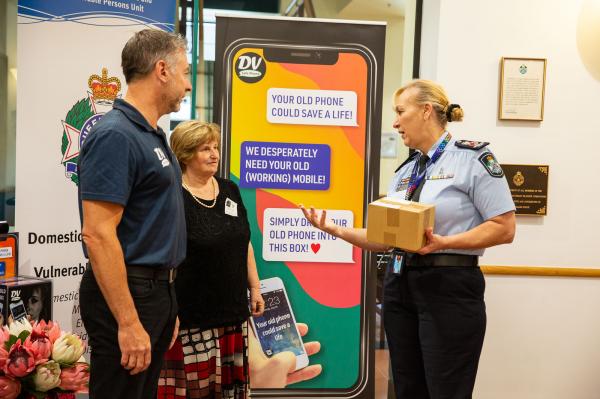 This October Sunshine Coast based DV Safe Phone is calling on individuals, businesses and community groups to donate phones and funds to help support victims of domestic, family and sexual violence in need.
The One Phone, One Life campaign kicks off on 1 October, to coincide with Queensland's Sexual Violence Awareness Month (SVAM) which is an initiative held each year to encourage the community to show their support for ending violence of this nature, and to raise awareness of its prevalence and support services available.
DV Safe Phone founder and chief executive officer, Ashton Wood, said recently published figures showed one in two women and one in four men, had been sexually harassed since the age of 15.
"Tragically, one in six women, and one in nine men reported physical and/or sexual abuse before the age of 15 and this is something no child should ever endure," Mr Wood said.
"DV Safe Phone is extremely proud to support the objectives of SVAM through our One Phone, One Life campaign."
With a charter to serve victims of domestic, family and sexual violence across Australia, and in recognition of escalating demand for safe phones due to extended Covid-19 lockdowns, DV Safe Phone will spearhead a national campaign for the October phone and fundraising drive.
"It has been great to see millions of dollars being invested to increase capacity to support victims, many who are tragically now trapped at home with their perpetrators. However, with these services comes increasing reliance on access to a working mobile device to call for help, and we continue to desperately need people's support," Mr Wood said.
The mobile phone is often the first thing to be destroyed, taken or monitored in a domestic violence situation, leaving many victims with no way to call for help. Having a second phone hidden away is an important part of a victim's safety and exit plan. It also provides security with the ability to call for help in an emergency.
DV Safe Phone's Head of Advancement, Dr Sarah Wetton, reflected on how being uncomfortable discussing difficult topics like domestic, family and sexual violence can make it hard for us as a community to engage proactively in helping our neighbours and our loved ones directly when they need us most.
"At DV Safe Phone we believe no call for help should go unheard. But, we also recognise not all of us are equipped to offer advice or support to someone experiencing domestic abuse," Dr Wetton said.
"Engaging with the One Phone, One Life campaign can help make it easier to have a conversation around domestic, family and sexual violence in a purposeful and interactive way. It creates awareness and connection for those needing support services.
"The sheer enormity of published statistics can also lead to overwhelm as to how we, as a community, can make a positive impact on such a goliath community health challenge. Yet it is literally through the generosity of everyday people that DV Safe Phone has to date facilitated the delivery of over 1000 safe phones to victims in need."
It is with all of this in mind, that the One Phone, One Life campaign offers a simple yet impactful way for thousands of people to stand together and pledge support to collectively say no to sexual violence and make a real difference in the lives of victims in need.
Mr Wood said the theme for the month-long campaign is a 'hint of teal', in recognition of the universal colour for sexual violence awareness.
"DV Safe Phone is giving people creative license to fundraise in their own way, with the support of our customised online fundraising platform that helps you track your phone and fundraising targets. It really couldn't be easier to get involved," Mr Wood said.
"Our target for the month-long campaign is to support an additional 1000 victims by raising an additional 1000 working mobile phones, each accompanied by a $15 donation to purchase phone credit when the phone is sent out."
As a charitable organisation registered with Deductible Gift Recipient Status, all donations over $2AUD are tax deductible in Australia.
To find out more about DV Safe Phone and pledge your support for victims in need, visit dvsafephone.org/fundraise