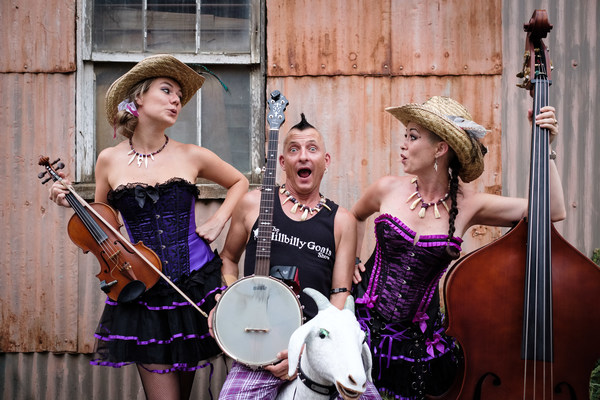 Festival favourites and Golden Guitar finalists, The Hillbilly Goats are bringing their mountain music and harmonies to The Imperial Hotel on Saturday 25 May.
Trad folk on steroids with a splash of colour and a dash of difference – these Goats have forged their own path.
Their mission is to strip back the layers of modern music and transport you on a journey that began centuries ago when the immigrants first settled in the Appalachian Mountains of America. These guys aren't just a band – they're a show!
Their recordings paint a picture of traditional songs from 1710 through to the 1940's with a high-energy quirky edge.
Featuring banjo, bones, double bass, fiddle, tap dancing, three-part harmonies and stories, The Hillbilly Goats transform you on a journey of the history of mountain music's evolution into blues, country and bluegrass.
The band members are never satisfied with their own instruments and continually swap over and change positions on stage – you won't know where to look or who to watch.
Each member is their own character to love. You'll see Goat Girl running through the crowd rattling the bones; Goat Boy playing three instruments at once (drums with his feet, banjo in hand and harmonica on a brace); while the Goat Buster has legs that kick all the way to the sky – whilst playing fiddle flat out.
Tickets can be purchased on pre-sale $20 (+ booking fee) through Oztix or at the Imperial Hotel (Ph: 5442 8811). $25 at the door (unless sold out).
Doors open 7.30pm and the Imperial Hotel's free courtesy bus operates Friday and Saturday nights from 5pm and Sunday from 12pm– 4pm travelling to Eumundi, Belli Park, Cooroy, Doonan, Eerwah Vale, North Arm, and Verrierdale. Phone Gary on 0467 414 171 to book.