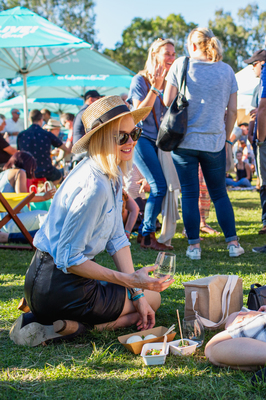 With global concern about single use plastic waste and litter escalating, Noosa is leading the way on solutions. The Noosa Food and Wine Festival this weekend will be a great example, with Tourism Noosa doing all they can to eliminate single use plastics and avoid landfill.
"Noosa is leading the way on plastic reductions and has already removed over 3 million single-use plastic items in the last 12 months," Coordinator of Plastic Free Noosa, Chad Buxton said.
"The Food and Wine Festival is continuing that trend."
The three things that you need to know about going plastic-free at Noosa Food and Wine Festival Village:
1. Everyone will be provided with a refillable cup for wine, beer or soft drinks upon entry. Refillable cups can be used throughout the festival or replaced with a clean one, as you wish. Using refillable cups replaces hundreds of thousands of single-use plastic cups that would otherwise go to landfill.
2. All food vendors will only be providing 100% compostable food ware. That means that when you have finished eating, all your waste- leftover food, cutlery or plates can go into the same compost bins at site. If in doubt, read the signs or ask a waste warrior volunteer to assist you.
3. All your compostable wastes will be going to a commercial composter and not landfill. We will be closing the loop reducing plastics and ensuring that all packaging used has a second life and does not add to litter or waste.
"Noosa is really making a difference." Chad said.Remember to bring your own water bottle as there will be refill stations on site. NOOSA branded water bottles will be on sale in the merchandise tent.