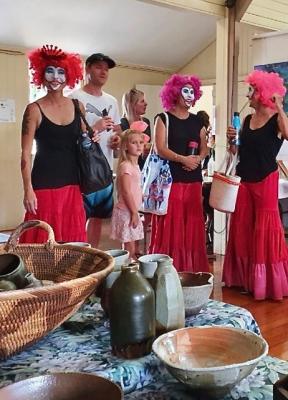 By Jo Wiles
The spirit of Kin Kin's arts community – and the enthusiasm of hundreds of visitors and locals – launched the town's inaugural art fair on Sunday 7 November with great success.
The tiny town buzzed with positive energy as an amazing 620 art-lovers descended on the School of the Arts Hall to enjoy the work of 17 Hinterland artists, all of whom reported good sales of their work and delight at meeting other artists, locals and tourists alike.
So successful was the day that the artists asked to do it again and told the Kin Kin Community Group 'we'll be there with bells on' for a second free art fair on Sunday 5 December. The Kin Kin Christmas Art Fair and Market will kick off at 8am. Again, admission is free to the public, and artists can exhibit and sell their work without having to pay any fees or commission.
New artists will be joining those who took part in the first fair, so here's a shout out to everyone: come along and buy art for Christmas.
Besides being treated to the best in original local art, visitors to Kin Kin on Sunday 5 December can stroll around the re-energised market on the showgrounds.
Last month's market boasted 20 stalls and an impromptu performance by a trio of witty locals channelling ABBA, cabaret and beyond. Linda McSweeney, Ashley Yarwood and Fiona Henley recently performed at Wolvi's Open Mike night and could become the hit of the market with more acts to come each market day.
Long time Kin Kin residents recall the town's credentials as a strong arts community. Now, like the monthly market, it is being reinvigorated. So, too, is the sense of village life as young families and others have begun moving into the hinterland – and Kin Kin – in search of better quality of life.
For more information, contact Jo Wiles on 0418 555 670.