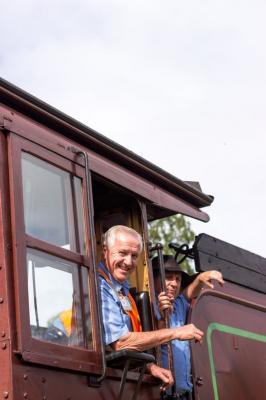 The Mary Valley Rattler is one of Gympie's best known gems, the Rattler brings in an abundance of tourism dollars for the community and is an historical icon that people travel far and wide to see.
Voted Travellers Choice on TripAdvisor in 2020, the Rattler not only offers its patrons an unforgettable experience but provides an enriching experience for its volunteer staff as well.
The Mary Valley Rattler is a not for profit organisation run by a large group of dedicated volunteer workers who are the lifeblood of the organisation.
There are currently volunteer roles available for anyone keen to work in the heritage environment and help support Gympie's steam locomotive attraction.
Onboard Guest Experience Attendants
– Assisting passengers with boarding and disembarking
– Punching tickets
– Ensuring train safety
– Assisting passengers to have an enjoyable experience
Tour Desk
– Welcoming passengers
– Issuing tickets
– Making reservations
– Answering phone enquiries
– Assisting with retail sales
Cafe
– Front and back of house attendants
Workshop Volunteers
– Various jobs including wood work, welding, painting etc
Train Drivers
– Safeworking and training provided from Guard through to Steam driver
The Mary Valley Rattler also have two Character Roles available
-Station Master – who is responsible for the safety on the platform and provides a welcoming smile to all
-Steam Man — Our mascot who appears during school holidays and special event days.
Volunteer Coordinator Emily Jimmieson started in the role in July and says the role of volunteer work at the Rattler is thoroughly enjoyable.
"I have seven plus years previous experience in a similar role and absolutely love working with volunteers.
"Our team of volunteers are a fabulous, friendly bunch and we would love to welcome more volunteers in all aspects of the business."