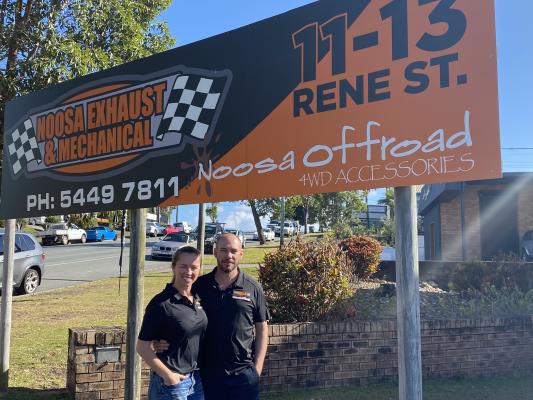 By Abbey Cannan
The new owners of local business Noosa Exhaust and Mechanical and Noosa Offroad are excited to immerse their family into the community.
With three sons and 30 years of expertise as a mechanical engineer, Zane and Natasha Coughlan make the perfect couple to help with all your mechanical and 4WD needs.
"Two years ago we got the opportunity to come home from an extended overseas assignment, and it is great to be back in Queensland and getting settled in this beautiful location," Natasha said.
"We can't wait to immerse ourselves in the local community and get out and meet people. Our boys all play rugby and go to a school close by."
Natasha is a business development manager and loves to get things done for people.
"I love a fast paced environment and am very solution 'out of the box' focused," she said.
"I work really great under pressure, and we have a focus on creating a very family-friendly work place.
"We love our weekends, rugby and outdoors, so we want that downtime for our team as well.
"Our customers might get a few phone calls from our kids because they work in here sometimes.
"We are looking for another mechanic to join our team, and a school-based apprentice."
Zane said they have been seeing an increase in demand for 4WD accessories.
"Part of our business, people are holidaying locally, beach trips, or tackling adventures like Landcruiser Mountain park and the many 4×4 tracks around the region," he said.
"People are taking the opportunity to spec up their 4WDs with lift kits, canopies, draws, GVM upgrades, battery systems, fridges, snorkels, towbars, loads."
Find Noosa Exhaust and Mechanical and Noosa Offroad at 11-13 Rene St, Noosaville.
For more information, call 07 5449 7811 or visit noosaexhaust.com.au