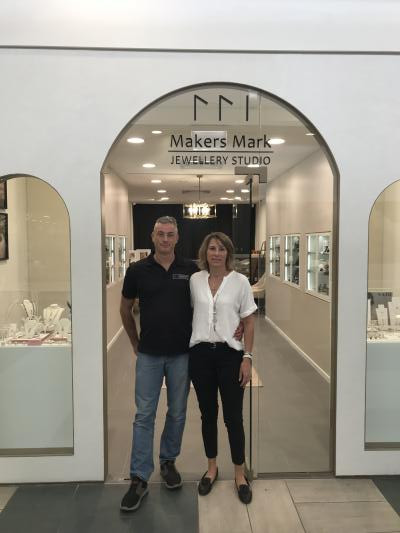 By Abbey Cannan
If diamonds are a girl's best friend, then a family-owned jewellery studio located in the heart of Noosaville, Makers Mark, is the place to be.
Rebecca and Jaemes Collingwood's studio displays a diverse range of elegant and unique pieces, along with the latest trends in jewellery design.
Specialising in hand-crafted gold and silver jewellery, repairs and remodelling, Jaemes has been creating and designing jewellery for over 30 years, focusing on innovative design and quality craftmanship.
"Our ranges include rare Pink Argyle Diamonds and stunning cultured pearls from Ikecho, along with beautiful contemporary silver pieces from Australian designers – Daniel Bentley, Najo and Rock Finders Keepers," Jaemes said.
Jaemes started his career in the industry as an apprentice with a manufacturing jeweller in Adelaide, learning the art of manufacturing, with particular attention to wedding and engagement rings.
In 1997, Jaemes started his own manufacturing business providing a wholesale repair and ring-making service to local jewellers and a hand full of retail clients.
Two years later, his passion for working with the public to create unique jewellery pieces led him to open a retail store in Mount Barker, South Australia, going on to relocate the business to his studio at Nairne in the Adelaide Hills, and again running another retail store in Hahndorf in 2014.
Over the next six years, the studio grew into a thriving business but in late 2020, Jaemes and Rebecca moved their family to Noosaville and re-opened the shop at the local shopping centre.
Jaemes' commitment to providing high quality, innovative designs and excellent customer service has paved the way for the success of his business over the last 25 years, and he looks forward to continuing to build an exciting future in Noosa.
Find Makers Mark at Noosa Village Shopping Centre, Noosaville. For more information call 0434 239 928.
For more information visit makersmarkjewellerystudio.com.au