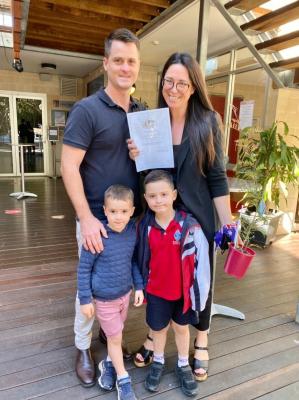 By Abbey Cannan
As Noosa Council conducts a Liveability Survey, Noosa Today has been asking local residents their thoughts on what's needed to make our suburbs and villages even better places to live.
Local resident Maria Baron, who completed the survey online with independent research agency PlaceScore, said she loved her home in Peregian Beach where she lives with her husband and two sons.
"We love that we get to live, work and play in such a beautiful place," Maria said.
"We moved from Sydney to the coast about 10 years ago. We first moved to Sunrise Beach where we had our first child before settling in Peregian Beach about five years ago, just before our second boy was born."
Maria was born in France and recently became an Australian citizen after having lived in Australia for more than 15 years.
"It was such a privilege to have our boys witness the ceremony in Noosa earlier this year," Maria said.
"Noosa has been such a welcoming place and we look forward to raising our boys here."
Working within the Village Square at their business, The Property Baron, is a highlight for Maria and her husband Jason.
"It is such a family-friendly place. Jason and I started a property buyers' agency a little while back. We love helping locals buy a home in the area," she said.
"We have such a unique understanding and knowledge of the local area. We love sharing everything we know about the Noosa region.
"We often head back to the village after school of an afternoon to hang out, meet friends, have an ice cream or an early dinner."
Maria said her family loved Peregian for its small village life with great cafes and restaurants.
"We have the sports facilities in Sunrise Beach and the shopping in Noosa," she said.
"We love going for bush walks at the lake and down the mountain bike trails in Tewantin or catching some yabbies down the creek as well as heading down the beach after a hot day."
Maria said the main things she would like to improve in the area included congested roads and housing affordability.
"The traffic can be a little tricky around Peregian Beach and especially at school hours, we would benefit from some better pedestrian crossing solutions across David Low Way, possibly an overpass or underpass so that traffic can keep moving," she said.
"For Noosa in general, it would be great to come up with some kind of low-cost housing solution in the area. Too many locals are moving away from the area due to housing affordability issues."
Mayor Clare Stewart said the Liveability Survey results would help create an even better Noosa for tomorrow.
"We want to understand what the community considers to be an ideal neighbourhood, it could be parks, public spaces, buzzing shopping precincts or community safety," Cr Stewart said.
"Accurate, rich data is vital as Council determines how to allocate resources in this post Covid world.
"A strong response rate will give us solid, evidence-based data to help make good decisions for the future, particularly with our budget planning about to start."
Simply complete the survey and you have the chance to win one of five $100 vouchers to be used at a number of Noosa businesses.
The survey is open until midnight December 5.
Take the survey at placescore.org/noosa