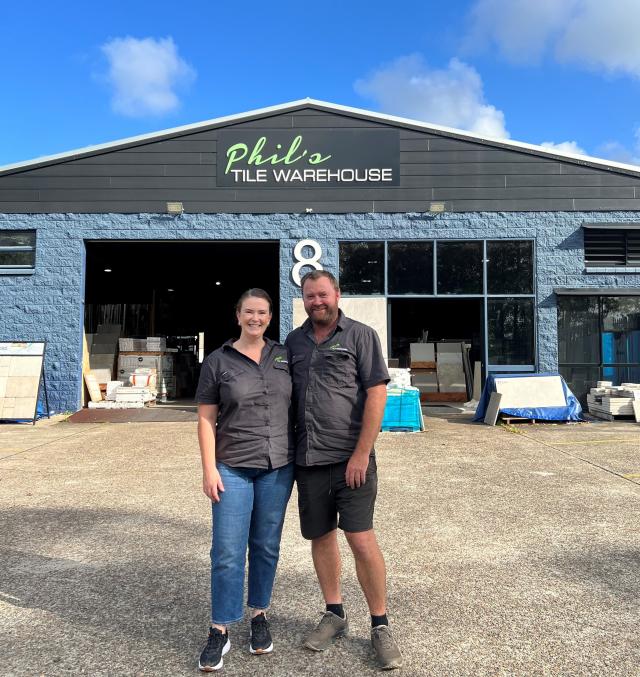 Phil and Barbara founded Phil's Tile Warehouse over 13 years ago and they have successfully built and sold their highly reputable business so that they can enjoy their long-awaited retirement.
The business has thrived on helping locals select their preferred tiles at the best price for their renovation projects and new builds, while ensuring each customer is 100 per cent satisfied which has resulted in word-of-mouth recommendations and many satisfied, repeat customers.
The new owners Scott and Phoebe are Noosa locals and no strangers to the local construction Industry.
They were the masterminds behind many extensions, new builds and renovations in Noosa over the last 12 years and they have built their reputation as the go-to builders of complex designs.
The new custodians of Phil's Tile Warehouse, Scott and Phoebe are using their experience in the building industry and their knowledge of interior design to help supply Noosa locals with the products that they need to build their dream homes.
"We will run this business the same way Phil and Barb have for all these years," Scott said.
"We have no intention of changing a thing. We always enjoyed coming into Phil's Tile Warehouse before we bought it, it is a family owned and run business that always puts customers first and it always will under our watch."
If you haven't experienced the amazing customer service at Phil's Tile Warehouse then it's not too late, head down to 8 Eenie Creek Road, Noosaville to see Scott and Phoebe now.
If you're considering retirement or selling your business, be sure to get in touch with Emmet Ryan at Savvy Business.
Emmet Ryan is a highly energetic and motivated industry professional. He has held a principal's licence for 10 years and has built his success by providing exceptional communication and working hard to achieve amazing outcomes for his sellers.
For more information call Emmet on 0423 123 159, the office on 07 5444 3300 or email emmet@savvybusiness.com.au