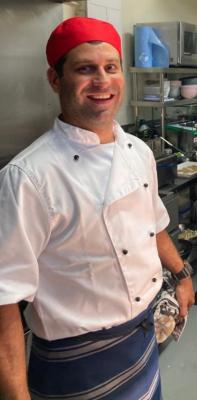 Eduardo's by the River on Gympie Terrace at Noosaville opened in early November 2020.
The restaurant's namesake and head chef is Eduardo Richetta – a Brazilian chef from Rio De Janeiro.
Starting his career at Chale II and Bistro MAC nestled inside Brazil's famous Museum of Contemporary Arts, Eduardo moved to Australia in 2008 where he worked for nearly a decade in Sydney.
With Argentinian, Brazilian, and Italian heritage, the chef says food has always played a leading role in his life, centred around love of family.
"I learnt to make empanadas from my Argentinian grandmother at a young age and grew up in a household where everyone enjoyed cooking and sharing meals with our large, extended families," Eduardo said.
"I always knew that I would build a career in food, and now after nearly 20 years working in restaurants here and overseas, I am so proud to be able to bring the experiences and flavours of my life to the wonderful people who choose to eat and drink with us."
The menu at Eduardo's by the River is a combination of flavours from Argentina, Brazil, Spain, Italy and Australia and combines traditional family recipes with a fresh, modern take.
Carefully designed to be simple, tasty and flexible, the menu offers tapas share plates, mains, beautiful fresh salads, gourmet burgers and desserts all served with Eduardo's specially created house-made sauces.
"The restaurant has been designed aesthetically to match our food – relaxed, family-friendly and welcoming. We have provided a fresh new space to eat and drink. A place where you can bring the kids for lunch, catch up with friends for a cocktail, or have a romantic dinner with a bottle of champagne," Eduardo said.
"We are committed to the Noosa region food scene, as well as working closely with local producers and service providers.
"Once a month, Eduardo's by the River has a special Latino cuisine event, where you can try traditional Brazilian and Argentinian food. Follow our social media for details."
Follow Eduardo's by the River on Facebook and Instagram @eduardosbytheriver and eduardosbytheriver.com.au