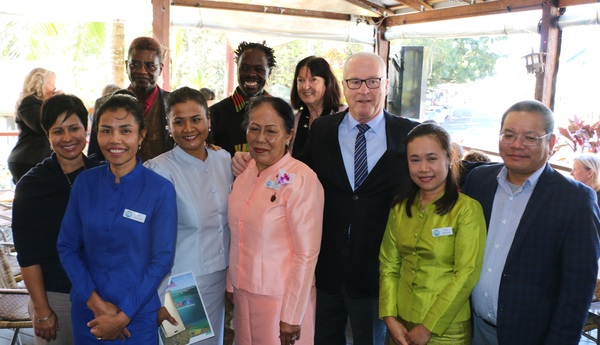 By Abbey Cannan
A one-stop web portal providing essential information for new migrants on the Sunshine Coast has been launched by Sunshine Coast Council with the aim of helping new residents feel welcome and enabling them to connect with services and their community.
Sunshine Coast Council's Multicultural Welcome Hub, Handbook and Directory aims to provide an easy way for migrants to tap into information about a suite of topics ranging from health, education and transport to helpful tips on forming connections in a new community.
Migrants who have relocated from all over the globe – including Tibet, Kenya, Thailand and Germany – shared their personal stories of the challenges, joys and opportunities they experienced moving to a new community.Juan Etheridge shared her story of moving from Udon Thani – a provincial city in Thailand's north-east – to the Sunshine Coast in 2009 to be with her husband John, a Eumundi resident.
She hopes her story will help others understand how to navigate some of the challenges and inspire those contemplating a move to the Sunshine Coast to put it into action.
"Learning from other people's experiences is really useful, whether they are good or bad, you can apply what they have learnt to your own situation," Mrs Etheridge said.
The biggest hurdles Mrs Etheridge faced were learning English and understanding the culture.
"There's just so much to learn and adapt to,'' Mrs Etheridge said.
Sunshine Coast Council Mayor Mark Jamieson said the Hub resources seek to promote a welcoming and inclusive Sunshine Coast for new migrants.
"The Sunshine Coast has a diverse and growing multicultural population – 20% of our population was born overseas," he said.
Sunshine Coast Migrant Settlement Worker Linda Dennis said the new hub and directory would alleviate a lot of the frustration and confusion migrants can experience.
"When people come to the Sunshine Coast from overseas there is such a range of information and services they need access to and people often don't know where to go," Ms Dennis said.
"Having a central point will really improve accessibility to this information."