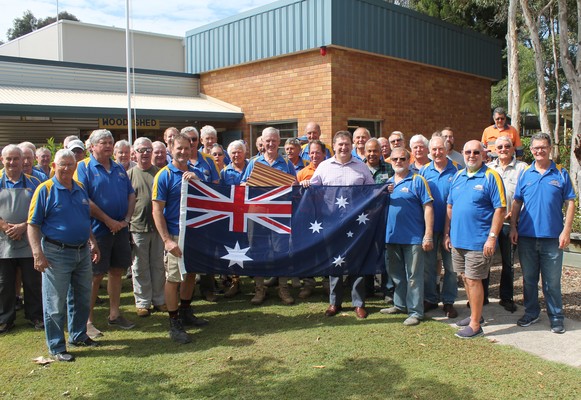 By Ron Lane
For members of the Noosa Mens Shed Tuesday 27 August at 11am was indeed a very proud and happy occasion, for on this day Club President Joe Cirillo and some 30 members gathered at the premises for what was to be their first official flag raising ceremony.
The president welcomed guest of honor Wide Bay BP Llew O'Brien to the event. "As our local Federal Member Llew has been the major supporter for our Mens Shed and today he continues to do so," he said.
Mr O'Brien then presented Mr Cirillo with their first ever Australian flag.
"It is my pleasure to hand the Noosa Men's Shed the flag as I consider it to be one of the most active clubs in the community," he said. With the support of former president Paul Asbury, the flag was attached and raised to the top of the pole; a pole which like all other necessities on the premises, was made and erected by the members themselves.
As members gathered around to shake hands with the guest of honor and extend their thanks, it was plain to see that their courtesy was indeed very sincere.
Membership of this group now stands at over 270 and as a result they have increased their number of work sheds to seven, enabling them to provide for wood work, metal work, leather work, computers, art, music and gardening and in the garden area there are European and native bees. "Things are going well for us," Paul said.
President Joe Cerillo stepped away from his office on Wednesday. "It has been a great and enjoyable experience working with all types of men from all walks of life as well as making goods friends along the way," he said.
"I may be stepping aside as president but I will definitely be staying on as a member." From all at Noosa Today it is well done and all the best to all involved.