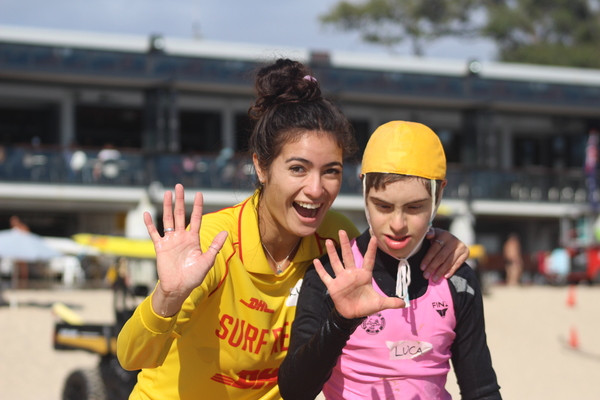 By Ron Lane
Last Saturday saw the return of the Noosa Seahorses Nippers to Noosa's Main Beach and it was indeed another happy occasion. "It was a very good start to our season," said oganiser Steve Mawby "We had many of our original families return to the beach as well as new ones and this is very encouraging. Also two young original nippers Rohan McDonald and Jack Geith were back for yet another season."
As in previous seasons there was a good role up of volunteer lifesavers with some 60 members of the Noosa Club in attendance. It should be noted that a lot of these lifesavers are only 15 and 16 years of age; but as one young female clubby said, "Helping these children really makes us appreciate how lucky we are, so it is good to be able to help." Also back for another season were veteran senior members Steve Freckelton water safety and Donald McKill obstacle course supervisor; just two of the many whose dedication has seen them involved right from the very start. Again the car parking and bus transportation from Lions Park to Main Beach was successfully conducted.
Despite recovering from off season shoulder surgery, Big Peter Williams (member of the parking crew) was in attendance to give moral support. This is just one example of the dedication of these people towards helping our kids who are in need of support and encouragement. Their contribution should be noted.
Other people of note were a team of four senior members from the club at North Burleigh who travelled to Noosa for an exchange of ideas. This is yet another indication as to the success and respect now enjoyed by Noosa Seahorse people.
Another person whose contribution goes above and beyond is Lorna Gardner who on occasions travels from Byron Bay to take part on the day. "It was this lady who back in 2013 helped launch the program," said Steve. "Lorna and all the others deserve to be acknowledged."
A very pleasing aspect at the end of the day was the reaction of the new nippers and their families. The smiles and laughter of the children said it all and the parents were very impressed.
Over the hill at Sunshine Beach Craig Law said, "Members spent the weekend doing gear checks and maintenance in preparation for the forth coming season. These jobs are a vital part of our preseason work as everything must be in readiness when the flags go up on the first weekend of the 2019/20 season." Regarding the building program club building spokesman Warrick Redwood said, "We are working hard with hopes of an early new year opening for the club. So far so good."
The work being done by our lifeguards on our beaches (summer and winter) is vital and with the eventual upgrade of the Maroochydore Airport to an International standard the influx of overseas tourists will no doubt increase. So who are these people and what is their background. Next week you will start to meet your lifeguards and you will be pleasantly surprised.