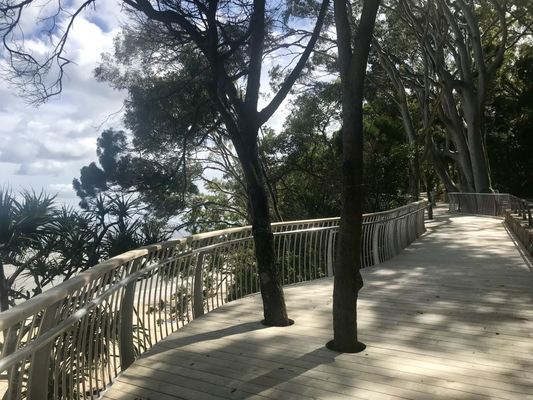 Visitors to the Triathlon this weekend will be among the first to experience Noosa's revitalised Park Road boardwalk, with work on a major upgrade finished in time.
Mayor Tony Wellington said the new section of boardwalk took into account the needs of pedestrians using Park Road without compromising the surrounding natural environment.
"This boardwalk is one of the most heavily utilised pieces of public infrastructure in our Shire, catering for millions of residents and visitors each year," he said.
"The upgraded section of the boardwalk showcases the iconic Laguna Bay and includes expanded viewing platforms, resting stops at key viewing sites, and improvements to existing stairway accesses.
"Over time the boardwalk will further blend with the natural surrounds as the timber decking and aluminium fades.
"The unique Grant Calder architectural design uses natural and durable materials in keeping with Noosa's design principles.".
Project manager Adam Britton said extra effort had been made to complete the project ahead of schedule and in time for the Noosa Triathlon.
"The contractor, Hutchinson Builders, has worked extremely hard to complete this project well in advance of the end-of-year deadline," he said.
Some minor works, including landscaping, will be completed over the next few weeks.