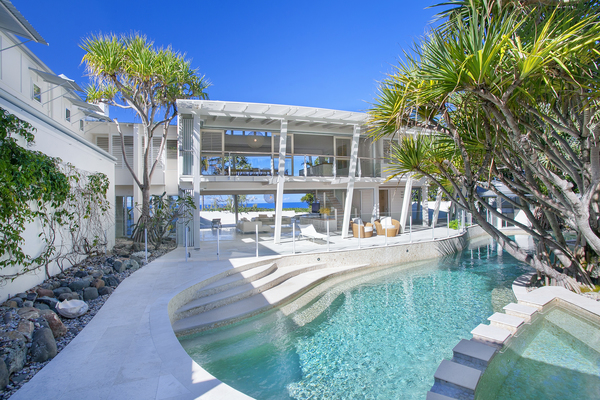 "A $14,000,000 house sale in Sunshine Beach has added further weight to the immense appeal and underlying confidence in the exclusive Noosa property market" Tom Offermann Real Estate principal Tom Offermann said. The 2 Belmore Terrace beachfront house is close to the village shops and sold on the very first inspection just prior to hitting the market. "While Nic Hunter and I were still putting the finishing touches on the marketing material we invited an interstate buyer to have a preview inspection. They flew up, loved what they saw and signed an unconditional contract on the spot. It has now settled." The house is on a 1258m2 double lot with 41m ocean frontage, 5 bedrooms, 6 bathrooms, and a stunning 23m pool.
The sale follows other records Tom Offermann Real Estate negotiated in Sunshine Beach for $15.2 million and $18 million earlier this year. "And there is another sale breaking $10 million which we will be announcing soon. Mr Offerman said his company had sold 9 of Noosa's top 10 sales this year which they attribute largely to their connections with affluent clients "who recognise the unique beauty of Noosa". The company's September quarter sales volume grew 58% compared to the same quarter in 2017, and enquiry levels are showing no signs of slowing and listings remaining tight with just 3.5% of properties on the market.
"Lately there has been some uncertainty amongst buyers and sellers due to reports about southern markets cooling, mainly from tightening of lending by banks. The relatively minor price falls in Sydney and Melbourne include sales from the inner city to outlying suburbs, so what relationship does the Parramatta market have to Noosa? None, we think." Tom Offermann said.
"The Sunshine coast and Noosa markets are mature regional markets driven by their own dynamics. Interstate migration is increasing at 2-3% pa. There is now major infrastructure including the new The University Hospital, many Tech Hubs, and a new airport runway opening in 2020 which will be a game changer offering direct International flights."