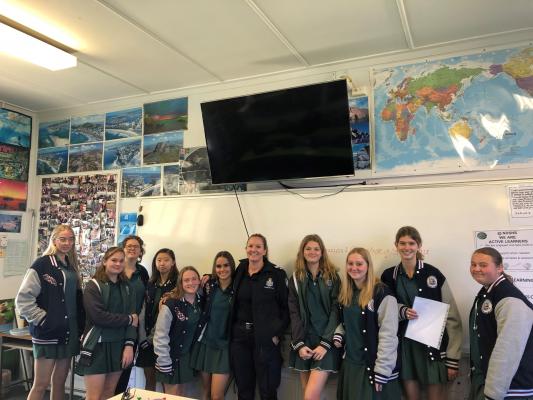 Noosa students learnt about the work local police officers undertake with a presentation to the class from Noosa Police Station's Senior Constable Jess Phillips on Monday.
Senior Constable Phillips told the Noosa District State High School Year 11 Social and Community Studies students she decided to become a police officer soon after completing her schooling on the Sunshine Coast.
"I wanted to help people and make a positive difference to the community," Senior Constable Phillips said.
The students were surprised to find the majority of the police call outs in the local community are related to domestic violence, usually fuelled by alcohol and drugs.
Senior Constable Phillips reminded students that police officers are human, and their work life is only a small part of who they are as a person.
"The police uniform can be a real hinderance and target. People forget that I'm actually a person, not a police robot. I'm a mum, a wife. Being a police officer is just a small part of who I am," Senior Constable Phillips said.
The class enjoyed hearing some of Senior Constable Phillips' stories and learning about the training undertaken to become a police officer.
Senior Constable Phillips recounted an incident involving a provisional driver who lost control of his vehicle, travelling too fast on a roundabout in Noosa, leaving his passenger in a coma last year.
"A few months ago, I came across the same driver travelling sideways around a roundabout in Noosa, and needless to say, I was not happy when I wrote him out a ticket. His actions indicated that he had little remorse for putting his friend in a coma," Senior Constable Phillips said.
Senior Constable Phillips told the students that the nature of the job can leave emotional scars, and some police suffer post-traumatic stress disorder as a consequence.
"It's difficult not to take some jobs on board and get pretty emotional about it all. I am lucky that I'm able to compartmentalise work and homelife, and I stop thinking about work as soon as I drive home at the end of my shift," Senior Constable Phillips said.
Senior Constable Phillips spoke to the students about an incident when she was assaulted by a member of the public, and how this was a pivotal moment in her career.
"A woman spat on my face, and members of the public filmed me on their phones arresting her. I was perceived as the bad guy in this instance, even though I was just doing my job. I realised what a thankless job this can be," Senior Constable Phillips said.
This incident made Senior Constable Phillips question her career choice, but with hindsight, she came to the realisation that she was making a positive difference.
The content of this presentation assisted students in consolidating their learnings about the world of work post-school, with their upcoming assessment piece encouraging the students to write on this subject.
The class found Senior Constable Phillips' presentation to be fascinating, with some students now seriously considering a career in the emergency services, including Year 11 student Paige Doran.
"I really enjoyed Jess's talk. She made me realise that a job helping others could be a good option for me," Paige said.