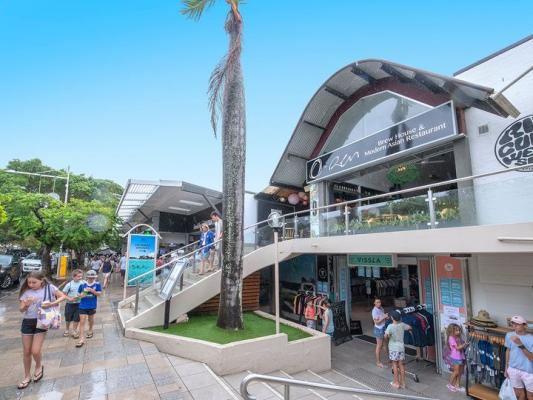 Hastings Street has long been a jewel of the region but the current demand for commercial space is like nothing local real estates have ever seen before.
Border closures, interstate migration and unprecedented interest from businesses keen to set up shop in regional areas has set the scene for an altered commercial mix across Noosa's prime Hastings Street strip.
Most current enquiries fielded by Ray White Commercial Noosa and Sunshine Coast North are for hospitality premises including restaurants, bars and hole-in-the-wall type café operations.
"One of the reasons food has bounced back before retail is simply the ability to get stock," Ray White Commercial Noosa and Sunshine Coast North co-principal Paul Butler said.
"Food has experienced a better consistency of supply throughout the pandemic which retail has struggled to achieve due to dependence on stock from overseas.
"As a food bowl and food destination, Noosa attracts some of the best chefs and restaurateurs, which builds our reputation and fuels demand."
Between 2015 and 2021, food retailing along the strip increased from 26.38 per cent to 34.26 per cent, according to a study conducted by Ray White Commercial.
The street now boasts 18 cafes and restaurants, 12 specialised food retailing outlets such as delis, and two supermarkets.
Current opportunities include the well-positioned 5/30 Hastings Street (pictured above), which was previously home to O-Ren Brewhouse, with two strong contenders vying for the space.
Getta Burger co-founder Brent Poulter's latest brainchild Cach Song converted a long-held fashion retailer at 3/18 Hastings Street to a colourful, retro takeaway café offering cold brew coffee, gelato, Bánh mì and cold-pressed juices.
Growing global franchise Oakberry Acai snapped up the former Jets Swimwear premises at 9/32 Hastings Street late last year, a highly sought after location with consistent foot traffic at the northern end of the street.
Clothing and soft goods have always dominated Hastings Street and, despite the impact of online retailing and hospitality sector growth, continues to occupy 37 per cent of floor space — a drop of just 4 per cent compared with 2015.
Over the past two months, Mr Butler said there had been significant interest from luxury brands seeking to enter the market.
"National and international retail operators are pinpointing positions they may be interested in and proactively searching for opportunities," he said.
"These operators are pursuing a regional presence to capitalise on the tourism boom.
"Combined with the increase in permanent population, they're now seeing Noosa as an economically viable location."
"International brands are looking for high-end properties with the potential for quality fit-outs.
"They know that to offer a great retail experience, they have to create that luxury feeling, so substantial volumes, high ceilings and a central location are essential.
"Good quality tenants are out there looking for good quality properties."
Mr Butler said while many seek a tenancy opportunity, others are willing to purchase to secure a more permanent presence.
He said Hastings Street had always been tightly held.
"Assets on average only come to market every 12.74 years, with some held for more than 30 years," he said.
"While there has been little transactional evidence this year, good premises continue to sell in the sub 4.75 per cent yield range for vendors.
"This year we have seen several new leases in the 35-200sqm range, with food retailing achieving premium rates.
"Recent deals represent net face rents around $2,500-$3,750 per square metre with an average term of five years."