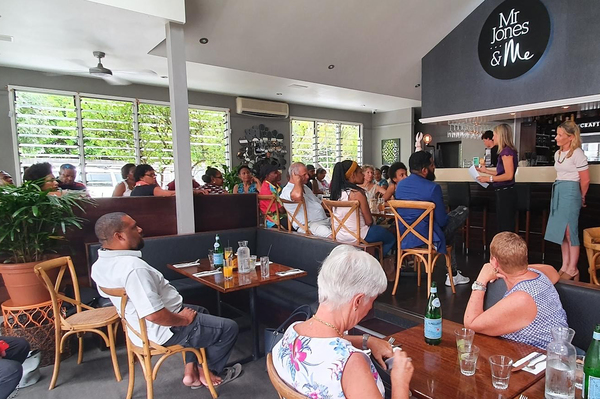 Australia Awards participants from Papua New Guinea celebrated International Women's Day
in Noosa last week.
The cohort, which comprises 17 female and eight male entrepreneurs, enjoyed a networking lunch with local women of influence at a private function at Noosaville restaurant Mr Jones & Me.
The entrepreneurs are completing a Short Course on Entrepreneurship and New Venture Creation through CIDSEL (Centre for International Development, Social Entrepreneurship and Leadership), a capacity-building arm of the University of the Sunshine Coast.
The course offers participants an opportunity to gain a Certificate IV in Entrepreneurship & New Venture Creation and to learn from local entrepreneurs.
Some of the places they have visited include the Peregian Digital Hub, The Ginger Factory, White's IGA, Sea Life Mooloolaba, Youi Insurance, Big Heart Bamboo, SevGen, Slow Foods
Noosa and Tree Top Challenge Adventure Park. CIDSEL Director Tami Harriott said the intensive professional development course gave participants skills in leadership, business creation, ethics and values, intellectual property, risk management and venture creation with a strong focus on gender equality.
"This made International Women's Day such an important opportunity for the group to celebrate the social, economic, cultural and political achievements of women," she said.
Participant Quatro Bisai, who is the business owner of Notromie Bilums and Accessories in PNG, said the Short Course had been invaluable.
"This experience has shown me there are no boundaries. It has shown me how business can be done differently and how to overcome all the blockages I had believed are there," she said.
"I can now see where opportunities lie in my local area, which is very remote. As a woman in business, there are still many challenges to overcome in our society. But women bring their heart to business and I believe they are successful when they bring determination and hard work, even if it takes time to get there."
The PNG group was welcomed to Noosa in early February by Noosa Mayor Tony Wellington, PNG Consul-General Jimmy Ovia, USC Deputy Vice-Chancellor (Academic) Professor Tim Wess, and Department of Foreign Affairs and Trade Deputy State Director Nick Williams at
RACV Noosa.