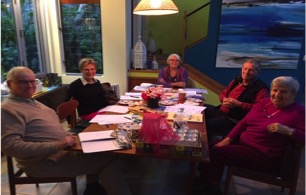 Leaders from six local bushcare groups, convened this week to signal the start of rehabilitation works along the 11kms eastern beaches strip, where vegetated dunes provide resilience to the onslaught of coastal erosion, as seen recently in NSW.
Team member Rochelle Gooch said the "much-needed" three year 'Coastal Connect' project funded by Noosa Council, would enable local contractors to assist Bushcare volunteers to strengthen the dunal bushland between Sunshine and Peregian Beaches.
"The team will be focussed on ensuring healthy foreshore dunes including an emphasis on our coastal creek estuaries at Sunshine, Marcus, Castaways &and Peregian, as well as scattered ephemeral ponds throughout the precincts," she said.
"These works support bushcarers' ongoing activities. There is an enhanced spirit of co-operation between these bushcare groups who have individually been involved in rehabilitation activities for decades."
Noosa's vegetated frontal dunes provide a critical buffer to storm surges and high tide erosion by both legislated setbacks and healthy mature deep-rooted native species – from spinifex and dunal creepers to the Casuarinas and Banksias as well as the larger Tuckeroos and Moreton Bay Ash, she said.