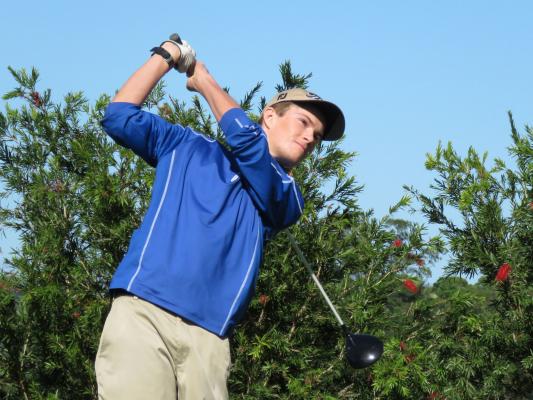 By Peter Owen
Talented youngsters take Noosa Springs foursomes title
Young guns Dino Degotardi and Blake Heiniger gave their more experienced rivals a taste of their class when they dominated Noosa Springs' men's foursomes championship, coasting to a nine-stroke victory.
The two young men, not long out of junior ranks, shot 78 in the alternate shot format, scoring from the pairing of John Gavin and Glen Sunderland who had 87.
The comprehensive win came as no real surprise. Degotardi, one of the Sunshine Coast's most accomplished young stars, plays off a plus 3 handicap, while Heiniger, a four-marker, is the son of renowned golf coach Peter Heiniger, who heads a team of teaching professionals at Noosa Springs.
Heiniger coaches both players.
If not for Covid-19, Degotardi would now be studying and playing golf in the United States.
He signed last year with the University of Northern Colorado, and had been looking forward to joining that college's successful golf program.
In the women's foursomes championships, the team of Tracey Carter and Chrissy Hordern shot 83 to beat Kelly-Ann Lynch and Judy Buss by two strokes. Rowena Faerch and Rosie Randall won the nett category with 73.
Adam Scott quickly finds form
Adam Scott, playing his first tournament after an extended stay at his Sunshine Beach home, turned in four impressive rounds to finish in the top 25 in this week's US PGA Championship in San Francisco.
Scott, who based himself in Noosa while the PGA Tour took a Covid-19-forced break, shot rounds of 68, 70, 70 and 68 for a four-round total of 276 – four under par.
Scott was one of the last elite players to rejoin the Tour. He had misgivings about travelling at first, then concerns about the measures in place to protect players from the virus. More than that, though, he enjoyed being home with his family. Scott celebrated his 40th birthday with family at Noosa, relearned the pleasures and demands of full-time parenting and reconnected with old pals, hanging out at Headland, Caloundra and Noosa Springs, where he did much of his preparation for a return to big-time golf.
"It had been probably 20 years since I'd been home at that time of year and for that length of time, and I certainly enjoyed it very much, given whatever restrictions we were still under," he said.
"It was nice to be there with the family, and I think in some way it's going to prolong my career."
Another Sunshine Coast-based golfer – Lucas Herbert, who now calls Marcus Beach home – missed the 36-hole cut after rounds of 73 and 70.
Covid brings an end to Noosa Springs Open
This year's Noosa Springs Open, scheduled to be played on Sunday, September 13, has become the latest casualty of Covid-19.
The event, one of the highlights of Noosa Springs' golfing calendar, attracts players from near and far, including many from interstate. Several have already told Noosa Springs' officials they will be unable to compete, now that Queensland's borders are closed to Victorians and most NSW residents.
Noosa Springs' executive general manager Mark Brady said golfers who had registered for the event would be welcome to play on that day in the regular Sunday Series, which gives players a chance to win a year's free golf at Noosa Springs and Links Hope Island.
The Universal Property Sunday Series, a stableford event, is open to members and visitors, with local golfers – those who live on the Sunshine Coast and Gympie, plus those had already registered for the Noosa Springs Open – eligible for the Locals Only special green fee of $79, including a cart.
Poor final round costs Kirk
Katherine Kirk will rue a poor final round 77, which saw her drop from 16th to 65th in the Marathon Classic on the LPGA Tour this week.
The six over-par 77 followed three excellent earlier rounds – 71, 66 and 71 – by the Sunshine Beach star who was playing her second tournament since the Tour's resumption.
The event was won by American Danielle Kang, who scored her second straight victory, after overnight leader, Lydia Ko of New Zealand, recorded a disastrous double bogey seven on the very last hole.
Become the champion club golfer of the year
It's an opportunity for a player of any ability to win a genuine golf championship. All that's needed is an official golf handicap.
The Calvin Klein A, B and C Grade Championships are played at Noosa Springs over 54 holes from November 26. But register before August 31 and you'll get 15% off the entry fee.The championships are open to amateur golfers who have a registered A, B or C grade handicap.
For those wishing to stay at Noosa Springs for the event, a series of accommodation packages have been offered, starting at $82 per person per night.
Playing in the championships costs $339 (for visitors), $144 for Noosa Springs' members and $279 for Links Hope Island members.
Club championships soon
The search to find Noosa Golf Club's champion golfer begins on Saturday, August 29, when the first round of this year's club championship is played. Competition will continue on the following day, with the third and fourth rounds scheduled for Saturday, September 5 and Saturday, September 12.
Club champions will be crowned in A, B and C grades.
Cooroy's club championship starts this weekend.
Josie Ryan goes on her winning way
Evergreen Josie Ryan won her sixth Queensland Senior Women's Amateur Championship at Mt Coolum last week when she fired the best round of the day, a five over-par 77, to take the 54-hole title.With scores of 84, 81 and 77, the Headland champion beat overnight leader Kath Griffin of Hervey Bay by two shots with Oxley's Robyn Callaghan a stroke away in third place.
Josie has been a consistent performer over many years and has twice won the Australian Senior Amateur title. She has been women's champion at Headland 18 times.
In the men's senior championship, Caloundra's Peter Wouters rued a final round 80 which saw him slip to 7th place. His three round total of 231 was 10 strokes shy of the winner, Brad Dowling of Southport.
Oxley's Jess Jenkins (80, 77, 80) cruised to an easy 11-stroke win in the Queensland Women's Mid-Amateur (35 to 50 age group) Championship. She beat Jo Malone of Bribie Island and Maroochy River's Tam Reid.
Format change for amateur titles
Australia's elite amateur events have been overhauled for the first time in a generation, with the Australian Amateur Championship now including men and women, and played over 72 holes of stroke play, with no match play component and a 36-hole cut.
The field will comprise 105 men and 51 women.
The Australian Junior title will be played under a similar format, except the cut will not be made until 54 holes to give juniors a greater playing opportunity.
Competition results
NOOSA
Monday, August 3
Women's stableford: A grade – Jennifer Eborall 38c/b, Paula Jeffrey 38; B grade – Raye Cairns 39c/b, Roslyn Dehnert 39. Rundown to 35c/b.
Women's 9-hole stableford: Elisabeth Thomson 17. Rundown to 15c/b.
Tuesday, August 4
Men's Tuesday Club stableford: A grade – Bruce Blakemore (11) 43, James Anderson (12) 42c/b, Alan Holley (6) 42, Aaron Whitford (8) 41; B grade – Robin Versluys (17) 43, Allan Harris (13) 42, Cody Pyne (18) 41, John Tidy (15) 40c/b; C grade – Brian Cooper (27) 42, John Pawley (23) 40, Michael Harker (25) 38c/b, Dennis Hildebrandt (19) 38. Rundown to 37c/b.
Wednesday, August 5
Men's stableford: A grade – Coman Reynolds (8) 42, Barry Robinson (15) 41c/b; B grade – Peter McDonald (20) 45, Dick Patterson (22) 42; C grade – Ian Smith (27) 44, Ken Wales (31) 41. Rundown to 38.
Thursday, August 6Women's stroke: A grade – Sally Simmons (18) 74c/b, Tash Baker (15) 74, Connie Gordon (22) 74; B grade – Trish Corben (29) 69, Barb Forder (27) 70, Karen Haynes (29) 72c/b; C grade – Alice Cumming (36) 73, Patty Neale (35) 75, Alice Daw (32) 76c/b. Rundown to 76.
Saturday, August 8
Men's stableford: A grade – David Alsop (10) 38c/b, Bronson White (7) 38, Alan Holley (4) 37c/b; B grade – Graham Hillan (15) 40c/b, David Gerrard (13) 40, Michael Clayton (15) 39; C grade – John Deem (21) 38c/b, Jim Schofield (19) 38, David Garner (22) 38. Rundown to 34c/b.
Women's stableford: Cindy Lawson (24) 36c/b, Arlene Penlington (24) 36.
NOOSA SPRINGS
Monday, August 3
Men's stableford: Geoffrey Phillips (19) 41, Paul Liddy (10) 39, Bruce Mackenzie-Forbes (29) 37, Rob Ellis (18) 37, Bob MacPherson (9) 36, Peter Butt (32) 36.Women's stableford: Vivien Dembo (33) 40, Tereza Holley (19) 38, Helen MacKenzie (45) 37, Patricia Quinn (42) 36.
Wednesday, August 5
Men's stableford: Chris Coombe (28) 39, Jean Luc Chaudet (10) 39, Niels Faerch (25) 39, Peter Young (13) 38, Tony Buss (15) 37, Graham Young (15) 37.
Women's stableford: Fay Layton (32) 41, Karen O'Brien (20) 38, Noi Pike (18) 36, Wendy Hopping (28) 35, Carol Yancey (26) 34.
Saturday, August 8
Men's stableford: Greg Taylor (15) 47, Rob Mowat (7) 38, Alan Emblin (29) 38, Brian Wilkinson (10) 38, Craig Willian (8) 38, Craig Davis (20) 38.Women's stableford: Joan Cairns (34) 39, Rosie Randall (17) 35, Janet Young (25) 35, Jenny Hickey (22) 34, Mario Douglass (32) 34, Tereza Holley (18) 34.
COOROY
Tuesday, August 4
Women's (Tuesday Club) stroke 9 holes: Sandy Viney 33, Doreen Weaver 36. Rundown to 41.Wednesday, August 5
Vets Monthly Medal (stroke): A grade – Mike Kent 63, Keith Harkins 67, Bronco Price 69; B grade – Bruce Wilshire 68, Tony Foster 69, Ken McKay 70; C grade – Mike O'Donnell 64, Ron Blount 67, Dennis Beckhaus 74. Rundown to 74. NTP: Greg Flanagan (1st), Bruce Otto (4th), Rex Williams (6th), Bronco Price (7th), Graeme Osborne (10th), Michael Hill (12th), Grathan Leatherbarrow (13th), Rudy Agerbeek (15th).Thursday, August 6
Women's 2-person Ambrose: Kate Sawrey & Deb Macaulay 61.75, C. Clancy & J. Hall 68.25. Rundown to 71.Saturday, August 8
27-hole best ball stroke: Div 1 (net) – L. Cobb & G. Anderson 105.5, B. Clemow & T. Foster 107.25; Div 2 (gross) – W. Patston & C. Trist 113, P. Giblett & G. Giblett 115.
Men's stableford: G. Glanno 36c/b, D. Clayton 36.