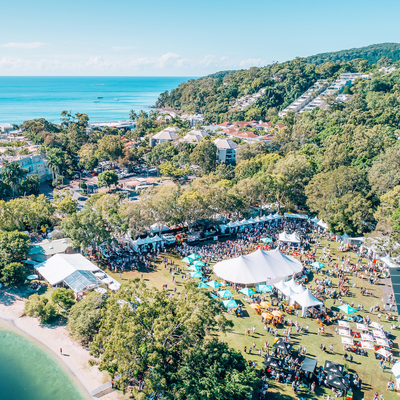 Events are often one of the biggest creators of single-use plastic waste, and Plastic Free Noosa has been working with a number of events in the community to combat the use of plastic.
The range of events they have been working with this year include; Cooroy Fusion Festival, Noosa International Film Festival, Noosa Festival of Surfing, and upcoming events Noosa Triathlon, Peregian Beach Food & Fashion, and the Noosa Food & Wine Festival.
"Following on from the success in 2018, we continue to work alongside the Noosa Food & Wine Festival to deliver a series of green initiatives, including a team of Waste Warriors to monitor bin stations, a plastic straw ban in Festival Village, compostable food containers/ foodware and reusable polycarbonate glasses," Plastic Free Noosa coordinator Chad Buxton said.
Noosa Food and Wine Festival Director Sheridah Puttick said this year they are extremely passionate about creating conversations and memories that make an impact.
"Sustainability is a key focus for the festival this year as we all need to do something now to make a significant change to our future," she said.
"We're working with some amazing local organisations to raise awareness, including Plastic Free Noosa and OzHarvest. To help reduce our impact, the festival will be restricting all single use plastic, including water bottles, straws, plastic bags and we'll have a team of dedicated Waste Warriors helping visitors in the Village recycle their waste correctly. Through our partnership with OzHarvest, we're working with Cameron Mathews, OzHarvest Ambassador, to create a menu based 100% on the surplus produce from the festival for our Industry Day on Monday.
"All the food and the packaging used by the Festival Village vendors are composable products which will then be delivered to the Festival composting partner to turn as much of the festival waste back into dirt for our farmers and environment and diverting it from landfill."
Plastic Free Noosa is a whole-of-community plan with a goal to reduce the use of identified single use plastic packaging in Noosa (by 50%) by November 2020. Plastic Free Noosa works directly with food retailers, events, markets, and other organisations and assist them to switch from single-use plastics to better alternatives. In 2018, Plastic Free Noosa worked with over 100 businesses and eliminated more than 1.6 million single-use plastic items in Noosa.
The team at Noosa Today are glad to be a part of this mission, after launching our new plastic-free distribution plan last month.
"Plastic Free Noosa always advocates reducing our impact over disposable; and Noosa Today has done just that. They have simply eliminated a single use item they felt they no longer needed and have listened to community concerns," Chad said.
Chad described the action by Noosa Today together with other locals, tourists and businesses as both "exciting" and inspiring, showing what we can do when we work together.
"We hope that more newspaper groups follow their lead nationally and internationally on this important issue," he said.
To get Noosa Today digital editions delivered straight to your inbox visit www.noosatoday.com.au/digital-editions/ and to find out where you can pick up a copy of the paper head to https://noosatoday.com.au/find-my-newspaper/.