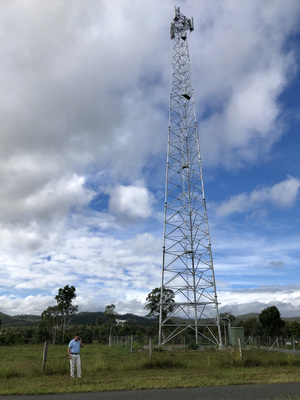 A new mobile phone tower is now active at Cinnabar, improving safety for motorists on the Wide Bay Highway and providing better coverage for local residents and businesses, Member for Wide Bay Llew O'Brien announced today.
Funding was provided for the Optus tower through Round 2 of the Liberal National Government's Mobile Black Spot Program.
"As a former police officer, I know that mobile phone coverage can save lives in times of emergency, and this new tower at Cinnabar means locals and people travelling on the Wide Bay Highway will be safer as a result," Mr O'Brien said.
"The improved mobile phone reception will better connect locals to services, and improve opportunity for local businesses."
Mr O'Brien said since 2016, the Mobile Black Spot Program has extended coverage to 13 new sites in Wide Bay, including Glastonbury, Kin Kin, Maryborough Biggenden Road – Gungaloon, Widgee, Woolooga, Maaroom, Pomona-Kin Kin Road, Tansey, Windera, and Yerra.
A further four sites are contracted to be active by June 30 this year.
"As someone who has lived and worked in regional areas for many years and relied heavily on telecommunications, I understand how important adequate mobile phone reception is to Wide Bay, and am working hard to improve access wherever possible," Mr O'Brien said.
Guidelines have been released for Round 5, and Mr O'Brien urged people in Wide Bay to let their mobile phone providers know of any coverage concerns so that they would consider applying for the funding.
"Round 5 will have a strong focus on improving coverage at important community centres in regional areas like Wide Bay, such as medical facilities, schools and economic hubs," Mr O'Brien said.
"I urge interested communities to contact the mobile network operators and state, territory and local government authorities to let them know about any coverage issues they are experiencing."
Mobile network operators and infrastructure providers have until 26 July 2019 to submit their applications.
Applications will be assessed through a competitive process conducted by the Department of Communications and the Arts. For more information, visit: www.communications.gov.au/mbsp