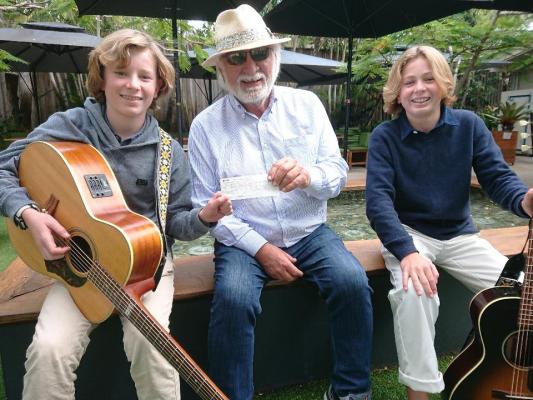 On Saturday 5 June the Noosa river shores came to life as the Sounds on Noosa Foreshore – Busking Championship event took place. This was the 4th annual event, although cancelled last year due to Covid restrictions, this year it was managed by The Noosaville Business Association in conjunction with The Rotary Club of Noosa Heads. Last week event organisers Tim Rook from NBA together with Rotary's Anne and Tony Oxley were thrilled to present a $5,000 donation to Sunshine Butterflies as the chosen charitable beneficiary from this year's event.
"This year's event was a huge success, despite being planned over a much shorter timeframe due to COVID-19, and the size of the donation is a testament to the hard work of all the volunteers, generosity of sponsors from the Noosaville business community, and Tourism Noosa grant funding," Noosaville Business Association president Tim Rook said.
The event started in Noosaville in 2017, when Tony Oxley from Rotary Noosa spotted the National Championships, run in Cooma. Bringing the event to Noosaville as a regional qualifier, Tony and his wife Anne have worked tirelessly to deliver it each year, spending many hours collating entries, organising busking locations and appearance timeslots.
Unfortunately, the 2020 event became another victim of Covid-19, but when The Noosaville Business Association was able to access the Tourism Noosa grant funding for local activity, contact was made with Tony and Anne, and the Business and Community groups got together and delivered what many have called the best event to date.
"There's no doubt that this has been Tony and Anne's baby from the start, they've seen it grow from 25 acts in 2017 to 70 in 2021. We contacted them originally with the idea of just funding the event, however they were thinking of retiring so we had to become deeply involved. They have had assistance from community groups in the past, but we were able to help take it to another level by leveraging the business expertise of members in marketing, event planning and budgeting,' Tim said.
The 2021 event was re-branded to "Sounds on Noosa Foreshore – Noosa Busking Championships" to ensure it was appealing to spectators to come and enjoy the free live music event along the river. This year hundreds turned out to enjoy the music and vote for their favourite acts. The 2022 event is set to be a 1-day event on Saturday 28th May, with finalists playing that afternoon on the main stage.
This generous donation has allowed Sunshine Butterflies to purchase a 6-seater Golf Cart for their 15-acre community facility 'Our Backyard'.
"Since we have expanded over to the property next door, it has been difficult for those with limited mobility to go to and from programs and facilities," Sunshine Butterflies community development officer Lucy Mills said. "This Golf Cart has made a huge difference for people living with disability as well as community groups accessing Sunshine Butterflies programs, activities and events."