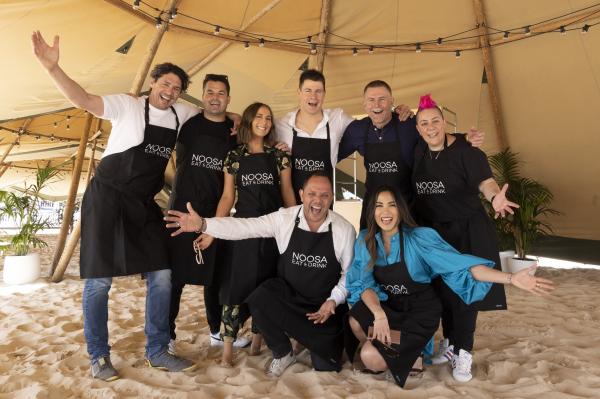 By Margaret Maccoll
It may have been scaled back for COVID requirements but Noosa was abuzz last weekend as glamorous foodies descended on the shire to celebrate Noosa's Eat and Drink festival.
Some of the country's top chefs were clearly excited to attend the festival that provided them the chance to cook amazing food using some of the region's rich source of produce as well as having opportunity to come together and share stories.
Celebrity chef Alastair McLeod said the Noosa event was the first opportunity for chefs to meet since COVID. "The cooking industry is a real family. We don't get together that often. When we get together we talk about food," he said.
Alastair said the chefs drew inspiration from each other at the event and returned to their restaurants promoting the virtues Noosa has to offer.
Pastry chef Anna Polyviou came to the festival with plans to enjoy the activities such as the Long Lunch and after parties as well as sharing her acclaimed sweets.
Mark Jensen from Sydney's Red Lantern Restaurant came to the festival to showcase Vietnamese cuisine. Having been to the festival three or four times it was the attitude of Noosa residents that kept drawing him back.
"The locals are so enthusiastic," he said. "They get so excited having us here."
It was the first Noosa visit for Masterchef 2017 winner Diana Chan who was "super excited" to attend while chefs Max and Laura Sharrad arrived from Adelaide keen to "soak up a bit of Noosa" and highlight their pasta dishes.
Local chefs kicked off the festival with the event's signature Long Lunch, dining the length of Hastings Street in an extravagant tribute to food and culinary skills.Guest and local chefs showcased their skills at restaurant events across the shire, shared drinks with locals and demonstrated their dishes at The Chef's Kitchen in Noosa Woods.
The relaxed atmosphere and joy of the festival was seen across the weekend and captured on Sunday when celebrity chef Colin Fassnidge teamed up with Australian Pork Limited spokesman and former The Block contestant Mitch Edwards to cook a pork roast and delight the audience with their hilarious banter.