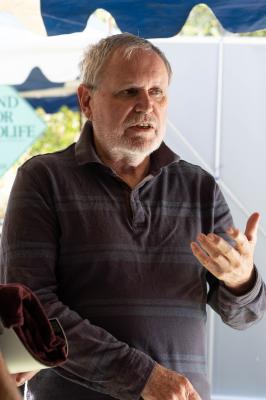 By Margaret Maccoll
So far 100 Noosa residents have joined the Urban Wildlife Gardens program run by Noosa Integrated Catchment Association (NICA) to increase native habitat in Noosa across urban gardens.
The program along with the promotion of NICA's recently released fourth edition of its book on Noosa Native Plants was among the information NICA provided to visitors at the Festival of Water at Noosa Botanic Gardens last Sunday.
NICA joined other environmental groups including wildlife rescue groups, Noosa Biosphere Foundation Reserve and Mary River Catchment Committee (MRCC) which provided information to visitors.
MRCC spokesman's Brad Wedlock tested 25 water samples brought by visitors during the day from their dams or bores.
Mr Wedlock also spoke about MRCC's program to reduce the erosion of soil into the river.
He said the organisation spent much time educating farmers on the rehabilitation of riverbanks and grazing numbers in their bid to reduce the sediment load in the river.
"There are a lot of new farmers in the region. They're willing to learn," he said.
Festival goers also enjoyed entertainment, good food and there were plenty of children's activities.