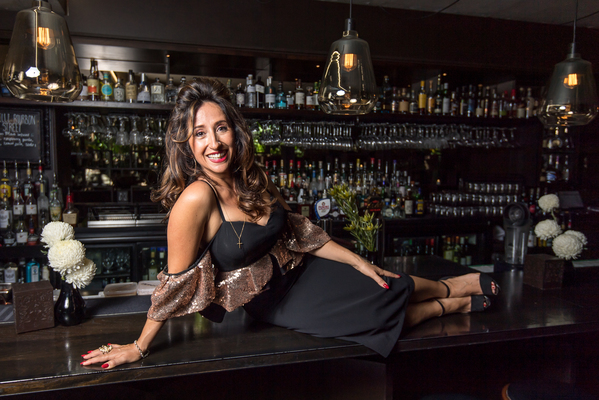 By Hollie Harris
When we think about style and fashion, we think Melbourne, we think Italy, we think designers. Here on the Coast, we have a thongs-on-the-weekend rule and work days rarely mean a tie or heels – we are just more casual here. That is, unless you're local fashionista Lucia Cimino, who has Melbourne, Italy and designers in her blood.
Recently winning the title of the Most Stylish on the Sunshine Coast at the Sunshine Coast Fashion Festival, Italian born Lucia's flirtation with fashion began as a young child growing up in Melbourne.
"My Mumma and l loved fabrics! Occasionally, she would buy a copy of Vogue Child and we would flick through the pages together 'ooohing' and 'ahhhing' over the images of beautiful kids clothing," Lucia says.
"One of my most memorable and absolutely favourite dresses was off the front cover of Vogue Child. A royal blue velvet shift dress with white lace collar and cuffs.
"I loved it so much that Mum went out and found the Royal Blue velvet and the beautiful white lace and she made me that dress. It made me feel magical and it was just like the one on the cover," she says.
And a life-long love of fashion was born. Having a garment made specifically for her body, made to measure, and being involved in the designing and making process ignited a passion she would experiment with in the years to come.
"Mum was such a creative soul that we get to play around with making stuff and experimenting. Sometimes things worked out and sometimes they didn't, but we just kept going and finding ways to make things work."
Experimenting with different looks and styles as l could, this Noosa stylist was influenced by the music she was listening to. Nick Cave and the Bad Seeds, Cocteau Twins and The Cure in those early Alternative Punk days, inspired a Gothic/Hippy look that she expressed her creative side with.
Huntingdale Tech in Melbourne was a perfect uniform-free outlet for this budding fashionista to rock out her creations.
"I would walk to classes in my long black slip dress with stilettos on. I felt utterly inspired. There were lots of punks and alternative kids at that school so it really didn't cause a stir."
Growing in confidence with some travel behind her, Lucia's career in fashion was about to begin in Fitzroy. With Brunswick Street being a mecca for alternative fashion and live music, she came across a position at Melbourne's iconic and most glamorous Bridal boutique, Mariana Hardwick.
"Could l really work there? Me a Hippie/goth/gypsy girl from the suburbs? I decided l would give it my best shot. I dressed up and got classy!"
Lucia convinced the boutique to hire her and she immersed in the dreamy world of Bridal Couture for a while.
"I learnt so much about styling for various body shapes and skin colour. I learnt the true art of styling with professional knowledge, care, sensibility and compassion for each woman l dressed."
"Mariana was a massive inspiration and influenced me greatly. She encouraged me to keep dressing in my now classic vintage style and had little lipstick cases delivered to all my fellow stylists so that would have red lippy on hand, just like me. That was a huge compliment," Lucia says.
Over the years, Lucia worked for several other Australian Fashion Designers and further added to her skills with layering techniques, really focusing on dressing for body shape as well as learning the craft of Yoga, becoming a certified instructor.
"I found that the sense of calm and well-being l developed as a Yoga practitioner, helped me to connect with the women l was styling on a deeper level. Yoga has been an invaluable asset on my life path."
These days, Lucia can be found among the beautiful fashion at Augustine in Noosa as well as styling our local ladies using her tried and tested tips.
LUCIAS TOP STYLING TIPS
CHOOSE A STYLE THAT YOU LOVE THE MOST Not every day, but if you want to look special and make a statement, you will automatically know which style is most you and then you are bound to look fabulous.
DRESS FOR BODY SHAPE Particularly with the cut of the garment. Do an online search for body shapes and what is considered the most flattering cut for your shape.
COLOURS Choose colours that make you look healthy rather than dull. Look at eye, hair and skin colour and choose colours to suit.
ACCESSORIES Belts, bags and shoes will entirely change an outfit. Statement earnings or a necklace will also make a dress look different every time.
ITS NOT ABOUT MONEY You don't have to spend huge amounts of money to look good. Basic pieces can be made glamorous with accessories. Some Op shops have designer garments with tags still on them. I find many! Look carefully, take your time and you are sure to find a treasure.
STATEMENTS ITEMS Stand out pieces that you can throw on that will work with anything are invaluable. Choose ones that will not date and you will always love like a Leopard print longline jacket or amazing black leather jacket. If you find that perfect dress that flatters you in all the right places, keep looking for that particular cut in different colours or prints.
"I love vintage glamour and dressing up as often as possible. Sometimes l love rock 'n' roll, which is a casual look that l feel best in. Big jewels and headpieces are my go-to for going out.
"l may be seen at school drop off, occasionally with fascinator flapping in the wind! I love the idea of a ballgown and bare feet, whilst walking through a field, which is how l see myself in 10 years time."
I get the idea Lucia may be a bit of a romantic. She talks about how Dolce and Gabana make her feel so happy. The authenticity of their classic Italian style mixed with modern components inspire her style today.
"l recently went to the Dior Exhibition held in Melbourne and l was completely enthralled with the craftsmanship and beauty of every piece on display.
"Dita Von Teese always looks incredible in her vintage glamour style. There is a simplicity in the cut of the dress or skirt she chooses that is always fresh, yet alluring."
This mum of two truly is a dreamer, a lover of life and fashion. She lives to express the internal feelings of joy and passion that she feels inside, to the world.
"I truly believe that this is what the art of dress is ultimately about. An internal feeling expressed externally. "Dress up for life" is my motto."
Her eye for style hasn't gone un-noticed. Recently nominated for the Sunshine Coast style awards in the Most Stylish on the Coast category, Lucia was grounded and humbled.
"l knew it would not alter how I was feeling about myself, but boost me further into my quest to be the best l can be. I have worked a lot on my relationship with myself this year.
Lucia was announced as the winner at the Sunshine Coast Fashion Festival a couple of weeks ago.
"In loving my eccentric and passionate self whole-heartedly, l believe that the wonderful gift of Most Stylish on the Sunshine Coast came with a wink of encouragement and acknowledgement from the universe telling me "You are all that you believe yourself to be. Shine and keep going girl!
"We were judged on our unique sense of style and how we walked with that in our everyday lives. Jacinta Richmond, organiser of Sunshine Coast Fashion Festival and Design/Style Awards has an amazing ability to find individuals who dress creatively and with style on this big Sunshine Coast of ours. She is a fabulous human being."
"l don't think fashion is as important to me as dressing – dressing for life.
"I wish to bring joy to others through my expression and through the art of dress. l wish to inspire others to find their way of expressing who they are."
I asked the beautiful stylist what is a common dressing mistake?
"I would definitely say being inauthentic to who you are is where it all falls down. If you are uncomfortable in what you are wearing, it shows and therefore you can never be truly confident," she says.
Lucia will be conducting fun and fabulous Styling Workshops in the new year. Connect with her via instagram – luciacimino27