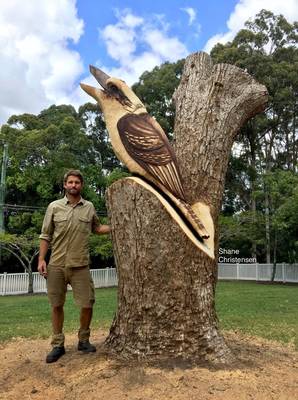 By Richard Morgan
Shane Christensen has a serious wow-factor.
One look at his work….. yep, "wow"!
So much so that this chainsaw-wielding artist went from hobby to full-time about two years ago.
And Shane will be one of the star attractions at this year's Cooroora Woodworkers' Club annual Woodcraft Show to be held in the Cooray Memorial Hall on Friday and Saturday, September 20 and 21.
The Eumundi-based artist will give a demonstration on the Saturday, producing an Australian native bird, which he generously has offered back to the club to be sold on the day.
Shane will make sure his demonstration is interactive in that he will talk to his audience, and offer advice and information about his art.
Even though Shane is a full-time artist, he values his connection to the woodworkers' club saying it is "a great source of timber knowledge, with a willingness to share experiences with anyone who's interested to learn".
While Shane has developed his talent to enable him to make a living from it, he is determined to keep improving. "My sculpting technique is a continual journey, there's no real beginning or end on this path," he says.
"One of the most pleasurable parts of creating a timber sculpture, is to be totally present in the process; time disappears."
Shane says that he hopes to continue as a full-time sculptor, saying "if the work keeps coming in, so I keep on creating".
"The tools I often use are quite dangerous, so I don't teach, I was self-taught in chainsaw carving, through watching other carvers, and YouTube helps a lot.
Shane also sees woodworking in the digital world a positive combination. "I see the digital world as a tool to learn techniques and network with woodworkers all around the world. But there comes a time when you have to put the theories into practice. There's so much information available, but it's useless without applying it."
Shane is justifiably keen to promote his work but reserves great respect for the club.
"It is an honour to perform a live chainsaw carving at the Woodcraft Show. I will carve among experienced woodworkers, people I see as my peers," he said.
Shane will use a variety of petrol chainsaws, battery chainsaws and Arbortech tools. "I will start with a log, and by the end of the day, I'll have a sculpture to sell (for the club's benefit)".
You can almost guarantee it will have plenty of "wow-factor"!
Now it its 30th year, the Cooroora Woodcraft Show is the sum of many parts, from displays to competitions and demonstrations, as well as quality finished items for sale, timber sales, trade retailers and the now "famous" show bags put together by members.
Competitons include an inter-club, as well as one for schools, and a peoples' choice.
This year a solid timber, hand-crafted kitchen/BBQ chopping board is the major raffle prize, and just $2 a ticket.
Entry for the show also is just $2, so visitors can hold on to their money to purchase exquisitely-made wood-work art.
The Cooroora Woodcraft Show will be on at Cooroy Memorial Hall, Maple Street, Cooroy on September 20 and 21. Entry cost: $2. For more information visit www.cooroorawoodworkersclub.com