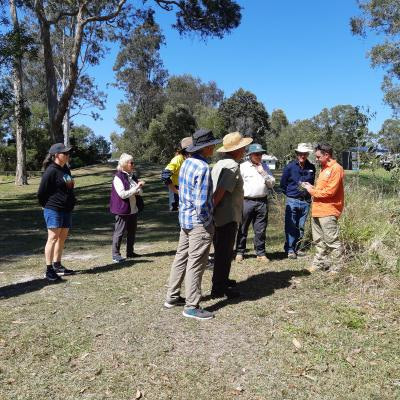 Sunny weather provided the perfect start for the Friends of Kauri Park Open Day in Cooroy last Sunday.
Noosa Council's bushland care officers Ryan, Renata and Harry were on hand to provide information about ecosystem restoration which includes the removal of invasive weed species and, where possible, replanting with endemic species to encourage the return of native fauna.
Over 40 native bird species, as well as many insects, have so far been identified in the park.
Renata said that she was "very excited to have the first bushcare group begin in Cooroy".
The morning culminated with the planting of a Kauri tree, Agathis robusta for which the park is named. Visit the group's facebook page at facebook.com/groups/1404882136571989
Members of the group have agreed to meet for monthly working bees on the second Sunday of the month. If you would like to meet new friends while contributing to the local community and its natural environment, contact Renata at renata.neumann@noosa.qld.gov.au or on 5329 6549.