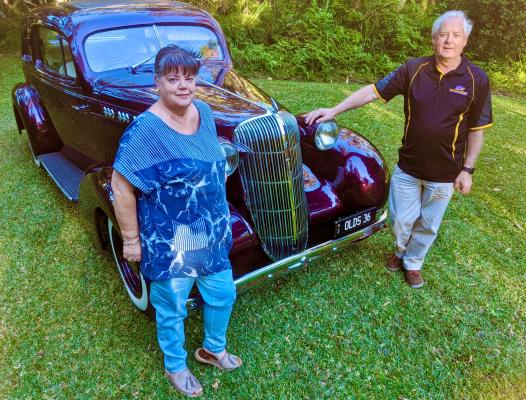 By Jim Fagan
More than 120 classic and current model cars worth an estimated $8 million will be on display at Chaplin Park, Noosaville, on Sunday, October 3.
Noosa's Roadrunner Car Club, whose members come from Brisbane to Gympie and Hervey Bay, is staging its annual charity car show, an extravaganza of cars ranging from a $1.6 million 1922 Bugatti Type 13, a 1934 Jaguar SS1 and a 1936 Oldsmobile Sloper to this year's current model GT Mustang.
And, just as it did at its last car show, proceeds will be donated to Katie Rose Cottage Hospice at Doonan.
Racing fans can expect to see a Holden Supercar and a Porsche 997.2 Porsche Cup Car. For motorcycle enthusiasts, there is a rare 1935 OK Supreme and a 1937 Velocette still in its original condition.
While everything on display has a history, the story of the almost 100-year-old Bugatti which raced at Isle of Man and Maroubra, Sydney, racetracks is worth telling.
Owner Mick Freestone, of Bli Bli, inherited the car from his dad, Ernie, in 1980.
"Dad was working in a service station in Adelaide in 1960 which had a showroom full of old cars. A chap came in to pay for his fuel and said, 'I've got a small car under the house and you can have it.'
"Dad found the Bugatti in a million bits and put it back in near operating condition with all the parts he had.
"I took over and I have nearly completed the project to Bugatti standard. I've just had the radiator refurbished and the oil pump done up but it's not working 100 per cent at the moment. I may have to push it into the car show!"
Club president Graeme Block anticipates a relaxed, happy event. He told Noosa Today, "We want to create a picnic atmosphere around the cars where people can sit and talk to the owners.
"We enjoy our cars and we are inviting people to share our enthusiasm.
"The Noosa Lions Club is providing breakfast and then a sausage lunch. There will be ice creams for the kids and there is a very special raffle with race car driver Gerry Murphy selling tickets to win hot laps at Queensland Raceway with one of his racing cars that will be on display.
"People will be able to have their photo taken in the race car for a gold coin donation."
Graeme said the club was formed only three years ago and "already we have 250 members and growing. There are many car enthusiasts on the Sunshine Coast and they have these collections of cars tucked away that nobody sees. An event like this will bring them out."
Noosa Charity Car Show 8am-1pm, Sunday October 3, Chaplin Park, Mill St, Noosaville. Entry $5 adults, children u14 free when accompanied by an adult. All proceeds to Katie Rose Cottage Hospice. More information roadrunnercarclub.com.au or 0407 009 464.